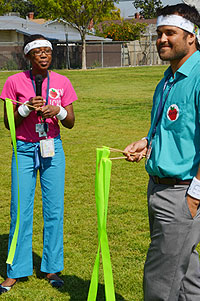 Welcome to the Community Pediatrics and Public Health Division, which includes our community-based rotations (Community Pediatrics and Public Health, Child Development, and Adolescent Medicine), our longitudinal community pediatrics and public health curriculum, as well as our community-based electives, interdepartmental Global Health Curriculum, Research & QI, and the Community Pediatrics Fellowship.
For information, contact:
---
Community Pediatrics and Public Health
The UCSF Fresno Community Pediatrics & Public Health (CPPH) Curriculum is a unique, longitudinally integrated curriculum with a variety of learning activities, site visits and didactics offered throughout the three years of residency. In addition, there is a dedicated month-long block in the third year. Topics include community resources, advocacy, health policy & systems, school-based health; diversity, equity inclusion & cultural awareness; social determinants of health (ACEs, trauma-informed care); environmental health, immigrant & refugee health, global health and more. Highlights of the curriculum include home visits, which offer the resident a new perspective on their patients in the home environment; rural pediatrics, spending the day in a clinic in a small town in west Fresno County as well as completing a community mapping activity; and our CARE (Cultural Awareness & Responsivity) Exercises which allow residents to interact with members of various local communities to learn firsthand about other viewpoints, beliefs and customs. Activities are tracked throughout the three years ensuring that each resident has the opportunity to meet every learning objective; at the same time, there is room to tailor the curriculum to a resident's particular interests and to best prepare them for their future careers. Our ultimate goal is to help our residents see where and how their little patients fit in the big picture – understanding the context in which each child fits within the family, social group, neighborhood, geographic region, and finally, within the population (population health/ epidemiology).
Curriculum Objectives
To learn how to identify and address the social, economic, environmental and cultural issues (i.e., the social determinants of health) affecting child health
To identify and work with institutions, organizations and individuals in the community that serve as resources for children and their families
To understand health care policies and systems that serve children and learn how to address barriers to accessing care
To develop the knowledge and skills necessary to work with children and families of diverse racial, ethnic, cultural identities and to address health disparities related to these differences
To learn how to advocate for health and well-being of children at both the individual and group levels
To learn how to collect, analyze and utilize data to better understand prevalence, relationships and trends in diseases, conditions and health related behaviors
Developmental and Behavioral Pediatrics
Developmental and Behavioral Pediatrics (DBP) is a rotation where residents learn about normal infant and child developmental milestones as well as disorders of development through direct experience in outpatient clinics and a variety of community sites and partners, with the opportunity to perform home visits.
Pediatrics involves the care of children from birth to 21. Accordingly, our Adolescent rotation focuses on understanding normal adolescent development, with an emphasis on interviewing teens. Residents will learn to recognize and care for what is outside the normal spectrum of development. Learning opportunities in this rotation also include contraceptive education, mental health, ACEs, drug and alcohol use, motor vehicle safety, and sports medicine both within the program and with community-based partnerships. Residents can often continue to follow patients they meet during this rotation in their assigned continuity clinic.
Past resident-run projects:

Dance with Your Doctor! Determining the effect of dance (as a form of fun, universally available exercise) on exercise habits and attitudes of elementary school children through engagement of dance exercise participation and parent-child surveys.
Evaluating sexual health knowledge in a high risk group of high school students, to see if they would benefit from a sexual health education curriculum.
Child Maltreatment Prevention Symposium – Visiting Professorship with keynote speaker Astrid Heger from USC.
Assessing Patient, Family, and Provider Readiness to Transitioning Adolescents to Adult-Oriented Health Care from Pediatric to Family Medicine Resident Clinics.
The Best of Both Worlds Project! Combining Early Literacy with Community Health. Community volunteers will read books to young children to promote both a love of books and healthy lifestyles.
Creation and participation in the Central Valley Concussion Consortium.
Participation in AAP-CA / California Medical Association Legislative Day, AAP Legislative Training in Washington D.C.
The Fresno Fit Project: Bringing Healthy Lifestyles Inside the Inner-City Classroom (AAP CATCH Grant)
The Central Valley as a food desert – numerous resident projects looking at various aspects, including GIS mapping
Live Again Fresno care packages
Interdepartmental food bank drive for donations to the Central California Food Bank during COVID
Adolescent Females in Ethnic/Immigrant Communities in the Central Valley, Stressors and Resilience
Creation of a central access point for residents in clinic with resources throughout the Central Valley
Group well-child visits
Workshops and morning seminars on numerous topics including: gun violence, health literacy, the vaping epidemic, access to pediatric palliative and hospice care, mental health care for the outpatient pediatrician, adolescent reproductive health services and education, marijuana use and abuse, the history of Fresno and its impact on current social conditions, food insecurity, religious communities' beliefs and attitudes toward vaccines, infant mortality in Fresno County
Community-based opportunities:

Windshield Surveys
Home Visits
Learning in community clinics
Partnering with local schools
Mentoring junior high, high school, and undergraduate students in a health professions pipeline program for students from traditionally underrepresented minorities and disadvantaged backgrounds
Partnering with a wide variety of community organizations
Working with legislators
Advocacy training with AAP-CA
Learning about human trafficking with Fresno EOC
Many more – you can help design your experience!