What is the Parkmedic Program?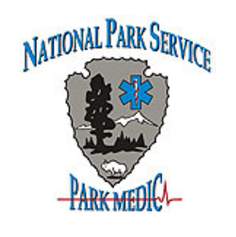 The Parkmedic program provides the emergency medicine residents at UCSF Fresno the unique opportunity to become EMS medical directors (under faculty supervision) for the EMS providers of Sequoia and Kings Canyon National Parks (SEKI). With staff guidance, residents participate in:
MonthlyContinuing Education of the Parkmedics (CE) (monthly continuing education sessions)
Continuous Quality Improvement (CQI)
Biannual Parkmedic Primary Certification Course
Residents voluntarily participate in this program usually starting in the PGY 2 year (see Parkmedic EMS Curriculum).
What is a Parkmedic?
Parkmedics are park rangers with specialty medical training. Their training is similar to an AEMT, but with an expanded pharmacological and procedural scope of practice. Parkmedics in Sequoia and Kings Canyon National Park provide EMS services under protocols written, reviewed and revised by Parkmedic residents. Parkmedics call for medical direction from the field to the CRMC emergency department, where trained residents provide advice and consultation via radio.
---
2024 PARKMEDIC TRAINING
Sunday, January 7 – Saturday, February 3, 2024
Community Regional Medical Center/UCSF Fresno Medical Education Program in Fresno, California
The UCSF Fresno Parkmedic Certification course is designed to take the already proficient EMT or AEMT and augment their skills and knowledge, allowing them to function as an ALS Parkmedic provider in remote and wilderness areas within the National Parks. The course will be taught in 3 sections: classroom (didactic), clinical (hospital), and field internship (pre-hospital).
Clinical and field internship hours will be scheduled individually immediately following this training block. Rangers should expect to stay in Fresno for a minimum of two weeks following the didactic portion of the course to complete the 50% of the clinical and field experience that must be done in Fresno. The remaining 50% may be done in Fresno per the ranger's request, requiring an additional 1-2 weeks, for a total of 3-4 weeks in Fresno after February 3rd.
CLICK HERE FOR FLYER FOR DETAILS
PAST PARKMEDIC EVENTS
ALS ParkMedic Refresher, Rocky Mountain National Park (ROMO)
Estes Park, CO   10/10/22-10/14/22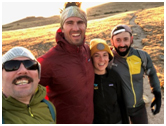 The UCSF Fresno Parkmedic program teaches an annual ALS refresher for National Park Service Parkmedics in Fresno, CA. This year four Parkmedic residents and three faculty traveled to Rocky Mountain National Park (ROMO) to put on an additional ALS refresher in Estes Park, CO. The course course provides in depth review of the Parkmedic skill set, emphasizing hands-on scenarios with gear application and medication administration.
Lead UCSF Residents: Gayle Kouklis and Scott Goddard
Faculty: Geoff Stroh, Erika Falsgraf Jimmy Mccue and Nick Black
Other UCSF Residents: Nate Dreyfus and Miles McDonough
Pear Lake Hut Winter Training
Pear Lake Hut, SEKI         2/18/23-2/20/23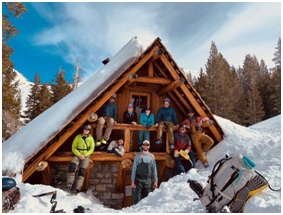 A team from UCSF Fresno EM (one faculty and four residents) toured in with five SEKI rangers to the Pear Lake Hut for a winter training. Content included but was not limited to didactic and hands-on skills for cold injury, avalanche resuscitation, companion rescue, heuristic traps and decision making, organized avalanche rescue, improvised immobilization and extraction as well as altitude medicine. The team was able to mitigate avalanche hazard on a tour high above the hut to explore local terrain as a team.
Lead UCSF Residents: Miles McDonough & Scott Goddard
Faculty: Ryan Ernst
Other UCSF Residents: Kate Rodman & Lavinia Turian
Yosemite ALS Refresher
Yosemite 02/13/2023-02/17/2023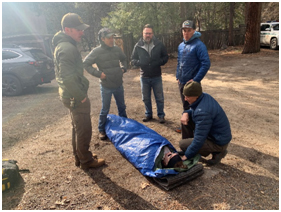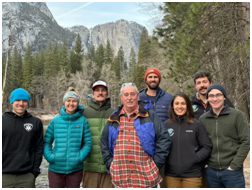 In partnership with Yosemite and the staff at the Yosemite clinic, UCSF Fresno hosted an ALS Parkmedic Refresher. This week-long course brought together residents and attendings from multiple institutions and P arkmedics and paramedics from several national parks. The course consisted of 5 days of lectures and scenarios covering a wide breadth of topics. This was the first collaborative event in Yosemite and we are looking forward to many more!
Lead UCSF Resident: Gaye Kouklis
Faculty: Geoff Stroh, Nick Black, Jimmy McCue, Ryan Ernst, Kimon Ioannides
Other UCSF Residents: Alex Wilson, Miles McDonough, Lavinia Turian, Maddie Giegold, Min Young Chung, Kate Rodman, Scott Goddard
---
Danny Dresher Memorial Scholarship for Parkmedic Training
In April 2019, the Dresher Family lost their beloved son and brother, Danny, in a mountaineering accident in Alaska. Through Danny's work as a back country ranger at Rocky Mountain National Park in Colorado and Lake Clark National Park in Alaska, he developed a passion for providing emergency medical services in wilderness environments. He constantly strove to improve both his mountaineering/rescue skills and his medical skills. Just prior to his death, he completed his Advanced EMT/Parkmedic training at UCSF Fresno at his own expense and was slated to be part of the Yosemite Search and Rescue team.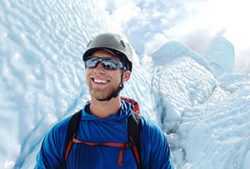 His family has established the "Danny Dresher Memorial Scholarship for Parkmedic Training at UCSF Fresno" in Danny's memory. These funds will be available annually to help pay tuition costs for National Park Service rangers attending UCSF Fresno's Parkmedic Primary Certification Course. This program and scholarship benefits rangers, our national parks, and the public by placing more medically trained rangers in the field. Honor Danny's life and the important work of parkmedics by making an online donation to the scholarship or explore other ways to make a donation. All donations to the UCSF Foundation at tax-deductible.
  Scholarship applications are being accepted until November 1. Click here to submit. 
January Parkmedic Primary Certification Course, Trauma Tactics Day