The UCSF School of Medicine Fresno regional campus is housed in a state-of-the-art building located at the corners of Fresno and Divsadero streets, adjacent to Community Regional Medical Center in downtown Fresno. When it opened in 2005, the three-story, 82,000 square-foot UCSF Fresno facility consolidated the residency programs and administrative staff together under one roof for the first time since UCSF Fresno was established in 1975.
UCSF Fresno serves as a hub for medical education and research in California's San Joaquin Valley. Our high-tech facility features a multi-media auditorium, advanced A/V-supported conference rooms with full teleconferencing services, a digital medical research library, clinical skills lab with high-fidelity simulation equipment and digital-recording capabilities, and an outdoor amphitheater. In addition, UCSF Fresno includes a Clinical Research Center and staff who oversee the operation of faculty-led clinical trials and other research that addresses health issues specific to the Valley.
Community based organizations interested in holding an event, meeting, lecture or seminar at UCSF Fresno, may call (559) 499-6400 or read below for information on availability, rooms, reservations, pricing and A/V support.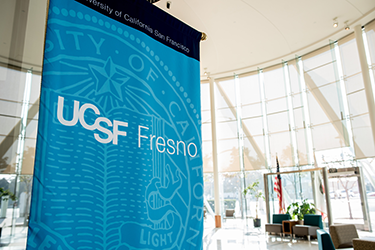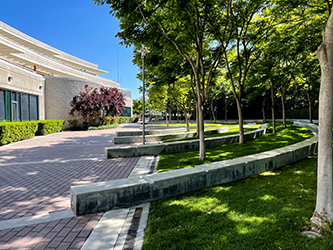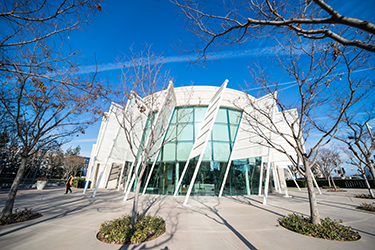 Directions and Parking
View Maps, Directions and Parking available at UCSF Fresno campus and affiliate sites and locations. 
Room Rentals
FOR EVENTS, MEETINGS AND CONFERENCES
UCSF Fresno is taking public reservations requests at this time. Approval is based on current UCSF meetings/events policies.
The high-tech UCSF Fresno building features a multi-media auditorium, computer lab and advanced audio/visual-supported conference rooms to hold special events, meetings, seminars and conferences.
Equipped with the latest A/V technology, the facility provides the tools essential to successful meetings and events. A wide variety of rooms can accommodate groups from 10 to 200 and knowledgeable A/V support staff can assist with setup and full technical support/supervision during events.
All rooms come equipped with built-in front or rear screen LCD Projector, networked desktop PC with LCD monitor, CD/DVD capabilities and various tables/seating configurations. Wireless internet access, USB presentation clickers, laser pointers, document cameras, laptop adaptors and conference phones available upon advanced request.

FIRST FLOOR ROOMS SUMMARY
*These rooms have a strict no food and drink policy
Please contact us for details.
HOW TO RESERVE A ROOM FOR YOUR EVENT