Physicians, nurses and allied health providers can learn specific clinical and team-based skills using high-fidelity simulators. Our simulation equipment offers an interactive learning experience, allowing trainees to become competent healthcare providers and improving patient safety and outcomes.
 
SimMan Plus
Built on decades of expertise, SimMan 3G PLUS offers a fully immersive simulation experience with heightened realism.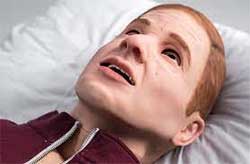 Designed to represent a diverse range of patient scenarios to help prepare learners for real-world situations, SimMan 3G PLUS introduces interchangeable face skins for diversity training and full articulation for realistic patient handling. Now you can also train with real clinical devices, in compliance with current guidelines.
Training individually or in a team, learners can practice critical skills such as decision-making, team communication, and patient care. With this improved and realistic feature set, learners encounter complex medical cases all in a risk-free environment. SimMan 3G PLUS ensures that when it's real, they'll be ready.
Realistic patient handling and added bilateral features offer the capability to train ALS and ACLS scenarios. 
Use a standard clinical monitor for accurate BP measurement. 3G PLUS also has improved pulses.  
Measure oxygen saturation levels with the same pulse oximeter used on a real patient. No extra equipment necessary for SpO2 monitoring.   
Deliver intramuscular or intraosseous medications with real devices and fluids. 
Flexible defibrillation options allow your learners to train with real pads or paddles using a live defibrillator.