2021 Virtual Mini Med School 10th Annual Series: Building a Healthy Community
The 2021 Virtual Mini Med School series was held on consecutive Thursdays from Sept. 9 through Sept. 30, 2021. More than 450 people from across the United States, Canada, England, India, and Albania registered for this series of community lectures and about 400 people ranging from students to adults participated. An annual favorite, Mini Med School shares the latest trends and topics in health care and medicine with general audiences. Subjects included: multispecialty care in the emergency department – which included a live simulation from the emergency response team at Community Medical Centers, infectious diseases and endocrinology, the importance of prenatal care, and a discussion with current SJV Prime students. Sukhjit Dhillon, MD, clinical instructor in the Department of Emergency Medicine, was the program director.
Click here to watch the 2021 Mini Med School series recording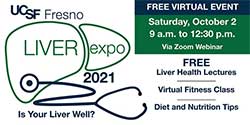 2021 Virtual Liver Expo
The third annual UCSF Fresno Liver Expo was held virtually on Oct. 2, 2021. This community event focused on liver health and the COVID-19 pandemic, nutritional habits to promote liver health, and to expand the scope of the program, pancreatic cancer awareness, presented by Dr. Amir Fathi, Director of HPB Surgery, Community Medical Centers. In addition to liver health lectures, the expo included an exercise class and cooking demo from Matthew Crum, Executive Chef for Community Medical Centers. Roughly 150 people participated online. Marina Roytman, MD, FACP, Director of the UCSF Fresno Liver Program, was the program director.
Click here to watch the 2021 Virtual Liver Expo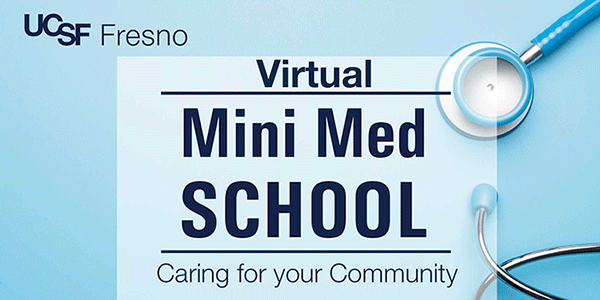 2020 Virtual Mini Med School: Caring for Your Community
The 9th installment of the UCSF Fresno Mini Medical School series drew attendees from around the world. The 2020 curriculum was structured as six virtual sessions, open to the public and dedicated to community concerns, current trends and innovations in health and medicine. Our health experts shared their knowledge and experience with over 1,000 attendees during this virtual series.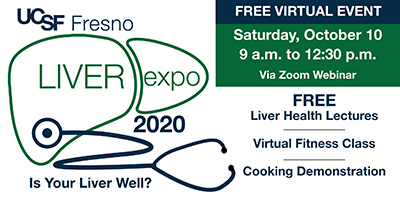 2020 Virtual Liver Expo
The 2nd Annual UCSF Fresno Liver Expo was hosted virtually on Saturday, October 10, 2020. This fun and educational online event focused on prevention and management of fatty liver disease and what participants could do to increase liver health. Attendees heard from UCSF Fresno and Community Regional Medical Center experts to answer the question, 'Is your liver well'?