Upcoming Events
12th Annual Mini Med School
UCSF Fresno, the San Joaquin Valley's largest physician-training program, is proud to present the 12th annual installment of Mini Med School. During this public lecture series attendees will hear from UCSF Fresno experts and learn about local trends in medicine and health sciences. The 2023 series will focus on new medical research coming out of UCSF Fresno and the impact of these findings in the Central Valley.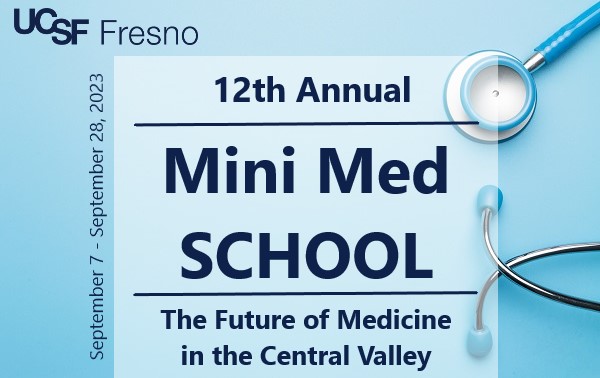 Dates and Times:
Every Thursday in September.
4:30pm - 7:00pm
4:30pm - 5pm: Registration and Snacks
5pm - 7pm: Live Lectures
---
Location:
UCSF Fresno 155 N. Fresno St.
Fresno, CA 93701
or Via Zoom Webinar
September 7th
5:00 pm to 6:00 pm
Fatty Liver Disease: New Name and New Treatment Options
Marina Roytman, MD, FACP, Professor of Clinical Medicine, UCSF, Liver Program Director, UCSF Fresno
6:00 pm to 7:00 pm
ECMO (Extracorporeal Membrane Oxygenation)
Eyad Almasri, MD, Clinical Professor, UCSF, Department of Pulmonology, UCSF Fresno
---
---
For Webinar Participants
 If anyone is experiences any connection issues, Click Here to see more ways to connect.
*Attendees can join us live at UCSF Fresno or online via Zoom webinar.  **Lectures include mature topics. Attendees should be at least 17 years of age.
---
5th Annual Liver Expo
Join UCSF Fresno on Saturday, October 14th for the 5th Annual Liver Expo! This hybrid event - attend either in-person or virtually - will focus on what is new in liver health, liver cancer diagnosis and emerging therapies, and the importance of colon cancer screening. Hear from UCSF Fresno, Stanford University, and Community Regional Medical Center experts and answer the question, 'Is your liver well'?
Dates and Times:
Saturday, October 14, 2023
9:30 am - 2:00 pm
9:30am - Registration
10:00am - Health Lectures
11:30am - Q&A
12:00pm - Free Lunch
12:30pm - Fitness Session, Screenings,Vendor Fair, and Raffle
---
Location:
UCSF Fresno 155 N. Fresno St.
Fresno, CA 93701
or Via Zoom Webinar
Free Services Provided
Liver Health Lectures
Health Screening
Health and Fitness Station
Healthy Cooking Demonstration
FREE FibroScan Testing for Select Guests*
(FibroScans will take place on the day of the event, must attend in-person to receive a scan)
*Enter the FibroScan Raffle when you register for the event.
---
Winners will be informed and appointments will be scheduled prior to the event. Winners must attend the event live to receive their FibroScan. 
Lecture Topics and Speakers
Questions? Summer Connery: [email protected] | (559) 499-6406
---