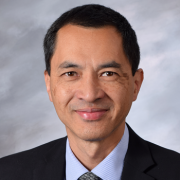 Lawrence Sue, MD, FACS
Lawrence Sue, M.D., FACS
Assistant Clinical Professor, UCSF
Specialty: General Surgery, Critical Care Surgery
Lawrence Sue, MD, FACS, is an Assistant Clinical Professor, Department of Surgery at the University of California San Francisco Fresno, UCSF Fresno Center for Medical Education and Research.
Dr. Sue received his bachelors degree in Biology at the University of California, Los Angeles, and his medical degree at the University of Health Sciences/The Chicago Medical School, North Chicago, Illinois, where he was elected into the Alpha Omega Alpha Medical Honor Society. Dr. Sue not only completed his General Surgery Internship and Residency Program at UCSF Fresno but he went on to complete both his Surgical Critical Care Fellowship and Trauma Surgery Fellowship at UCSF Fresno as well.
Dr. Sue has been a core faculty member in the Department of Surgery since 2007. His clinical and didactic teaching involve medical students, residents and fellows in Surgical Critical Care and Acute Care Surgery. Dr. Sue's mentoring activities include, operating, rounding, and evaluating throughout the academic year and encouraging improvement in medical students, residents and fellows technical skills as well as encouraging involvement in research. Dr. Sue's focus includes; general surgery, trauma, surgical critical care, medical education, trauma prevention, laparoscopy, tactical medicine and prehospital trauma care.
Dr. Sue is a Fellow of the American College of Surgeons, and serves as a member of the Eastern Association for the Surgery of Trauma, and the Fresno Madera Medical Society/California Medical Society.