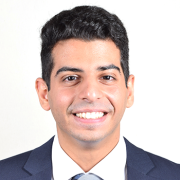 Khaled
Abdulllah, MD
Hometown
Riyadh, Saudi Arabia
Medical School
Alfaisal University College of Medicine
Hobbies, facts and interests
In my downtime, I enjoy playing the guitar and piano as well as competing in chess. I am also passionate about art whether it's writing poetry, making videos, or graphic design.
Why Fresno?
UCSF Fresno stood out with its excellent level of training, outstanding program support, fellowship training options, and great breadth of diverse pathology. From residents to faculty, there's a wonderful sense of camaraderie that makes every day a joy to work and every case an opportunity to learn.
What are your other career interests (specialties/fellowships)?
I am interested in pursuing Cardiology fellowship.
What are your research interests?
Cardiology, Public Health, and Medical Education