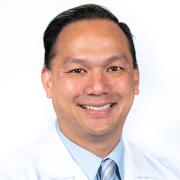 Kenny Banh, MD
Assistant Dean of UME
Professor of Clinical Emergency Medicine
Kenny Banh, MD, FACEP
Assistant Dean of Undergraduate Medical Education, UCSF Fresno
Associate Professor of Clinical Emergency Medicine, UCSF
Medical Director of COVID Equity Project, UCSF Fresno
Medical Director of Mobile HeaL Clinic, UCSF Fresno
Kenny Banh, MD, FACEP is board certified in Emergency Medicine.
He earned his medical degree at Drexel University College of Medicine and completed his residency in Emergency Medicine at University of California, San Francisco, Fresno.
Kenny Banh, MD, FACEP has earned many academic awards including the UCSF Academic Senate Distinction in Teaching and is inducted in out Academy of Medical Educators. He has also been a frequent presenter on Emergency Medicine and education nationally.