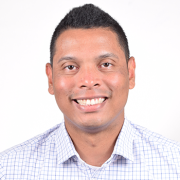 Delvin
Akins, MD
Hometown
Los Angeles, CA
Undergrad
Portland State
Medical School
OHSU
Hobbies, facts and interests
I grew up in the San Fernando Valley of Los Angeles, and left shortly after high school to serve as a medic in the Army. I spent time in Louisiana, the Middle East, Hawaii and (very briefly) Korea before moving to Portland. Moving to Fresno will be the first time living in California in almost two decades (whoa)!
Over the last few years, I've been trying everything I can to be good at the game of golf (minimal success), and I'm looking forward to exploring some of the courses in the Central Valley and on the central coast. I also love playing basketball and softball, and watching football and futbol.
I've also been working on music production, and it's pretty cool to drive around listening to my own finished songs. Other than that, my family keeps me pretty busy!
Why Fresno?
It was difficult to choose a residency program without meeting everyone in person. That said, my interview with the Fresno leadership and Residents was outstanding, and the conversations I had made me feel like this was the place for me. Of course, the program's reputation of providing excellent clinical training and the diverse patient population were key, as well. Ultimately, I made my decision based on where I thought I would thrive and be supported when needed. Lastly, Fresno is an easy drive to Los Angeles, and having family within reach was extremely important.