UCSF Fresno offers a well-rounded surgical training program that will train you to be highly skilled, safe surgeons.  Case volumes more than exceed the minimum required number and typically averages around 1,000 to 1,100 cases per graduating resident. There is considerable 1:1 faculty to resident ratio in the cases. Operative experience start early in intern year and is highly encouraged by faculty. Medical students doing their surgery and elective clerkships from UCSF and UC Davis also give residents opportunities to be teachers, and role models.
Residents primarily train at Community Regional Medical Center (CRMC), the only American College of Surgeons (ACS) verified Level 1 trauma center and burn unit serving the San Joaquin Valley with a population of four million people. There is broad exposure to a wide range of patient population and ages, from pediatric to geriatric, and most importantly, to rare surgical pathologies, and advanced disease processes. Other rotation sites offer exposure to private practice models.
Residents have broad exposure to all subspecialties of general surgery, including trauma and acute care surgery, burns, vascular, plastic, endocrine, and colorectal surgery. The Leon S. Peters Burn Center, located at CRMC, is the Central Valley's only burn center and provides residents with hands on experience in providing comprehensive burn care. Residents also spend time in San Francisco at UCSF for their transplant rotation with housing provided by UCSF Fresno.
Other unique features include a recently renovated simulation lab with 24-hour access, hands-on exposure to the Da Vinci Robotic system, a robust weekly didactic schedule, and weekly skills lab sessions focusing on operative techniques and critical care scenarios.
We have close-knit group of residents that come from diverse background and there is a strong culture of collegiality. Our goal is to recruit applicants that have a strong work ethic and wish to train in a resident-oriented, supportive environment. The program also demonstrates strong social interactions with residents from other specialties such as Emergency medicine, Orthopedics, Internal Medicine, and Oral Maxillofacial Surgery.
The program follows and supports UCSF's mission in promoting a diverse, inclusive, and equitable environment for all learners, faculty, and staff. For more information, please see
Life in the Central Valley
Life is good in the Central San Joaquin Valley. UCSF Fresno/CRMC is located in downtown Fresno, CA, which is the 5th largest city in California. This growing city is within 50 miles of three national parks: Kings Canyon National Park, Sequoia National Park, and Yosemite National Park. Faculty, residents, and fellows can enjoy numerous outdoor activities including fishing, white water rafting, hiking, skiing, snowboarding, and boating. Weekend trips to San Francisco, Los Angeles, the Central coast, and nearby wineries such as Napa Valley can be easily made. Most importantly, cost of living in Fresno is relatively inexpensive and very affordable. Many residents are able to buy houses in addition to renting.
The Central Valley also has a diverse population. The different ethnicities offer an extensive variety of food and culture. From the unique Tower District with its eclectic shops to coffee shops, to local wineries and breweries, to the annual Clovis Rodeo, Fresno offers a little bit of something for everyone. Visit https://www.visitfresnocounty.org/  for more.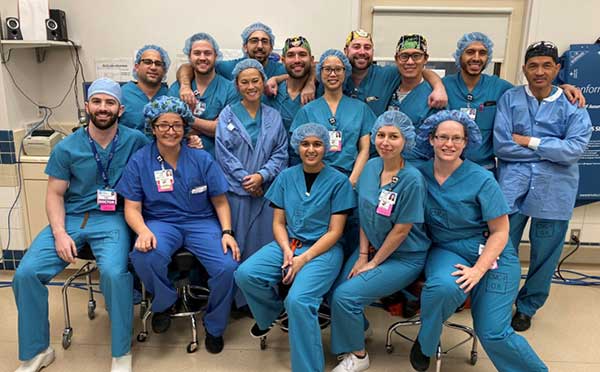 Surgical residency is challenging and it can be difficult to find balance between work and family. However, when there is free time, our residents find plenty of opportunities to have fun, spend time with each other, and develop a special bond.