Our program curriculum is designed with the goal of developing fully competent orthopaedic surgeons.
Early participation in the operating room is facilitated, and graduated autonomy with common surgical cases is expected. Skills learned in the OR provide a strong technical foundation for future independent orthopaedic practice.
Lectures, conferences, and journal clubs are held weekly, with in-depth content from every orthopaedic subspecialty covered across a cyclic didactics schedule. The program provides additional AAOS-recommended and commercial resources for orthopaedic study.
At the completion of the program, residents should be well equipped to successfully complete the qualifying and certifying examinations of the American Board of Orthopaedic Surgery (ABOS) as they progress toward full board certification.
PGY1:
Introduction to the resident clinical environment includes 13 four-week block rotations, split between orthopaedic (6 blocks ortho trauma, 1 block ortho hand) and non-orthopaedic services (1 block each: vascular surgery, general trauma surgery, surgical ICU, burn surgery, emergency medicine, anesthesia). Interns regularly participate in the inpatient (Guerilla/Gorilla) call pool, assisting with care for all inpatients across the surgical services (exempt while rotating on ortho hand, SICU, EM, anesthesia).
PGY2:
Residents begin to take on more responsibility as the primary coordinator of the orthopaedic trauma team (two 6-week blocks). Residents also participate in 3-month rotations off site, including pediatric orthopaedics at Valley Children's Hospital (link to VCH) and orthopaedic oncology at UCSF Mission Bay & Parnassus campuses (link to UCSF onc). A 6-week rotation is reserved for dedicated research work, and the ortho hand rotation rounds out the final 6-week block.
PGY2 residents also begin taking primary, overnight in-house call for orthopaedics during their trauma, hand, and research rotations (separate call schedules exist while on pediatrics and oncology). Post-call days are provided.
PGY3:
Additional subspecialties in adult reconstruction, spine, foot & ankle, and sports are explored during PGY3 year. Another 6-week research block is provided, as well as a 2-week elective in any subspecialty (faculty approval required). The final 12 weeks are spent revisiting ortho trauma.
PGY3 residents continue to participate in the primary ortho call pool.

PGY4:
PGY4s revisit the hand, spine, and pediatric ortho services, where they function as chief residents. Ortho trauma and a 6-week elective block provide additional opportunities for in-depth surgical exposure.
PGY4/5 residents do not take primary ortho call; instead, joining the ortho senior call pool to provide operative coverage for the CRMC trauma faculty on an approximately q7 weekend-only basis.
In addition, residents are supported as they apply for fellowship in the subspecialty of their choice during their PGY4 year.
PGY5:
Four 3-month rotations designed to increase confidence and allow independence in the OR and clinic settings. The orthopaedic trauma chief guides the trauma team and provides oversight of the service. Chief of sports/general functions to gain more experience with arthroscopy, subacute trauma, and other cases as desired. The adult reconstruction chief solidifies their skill with primary, revision, and complex hip & knee arthroplasty. Finally, the "Clovis Chief" provides operative coverage to post-call faculty at Clovis Community Medical Center (CCMC), and are encouraged to gain further independence by participating in any additional cases as desired.
In addition to honing surgical skills, PGY5s are expected to provide support, supervision, and teaching to PGYs 1-4. During their time as trauma chief, each PGY5 coordinates with the other services to construct the ortho call schedules.
Current rotation schedule, as of January 2023:
| PGY-1 | PGY-2 | PGY-3 | PGY-4 | PGY-5 |
| --- | --- | --- | --- | --- |
| Orthopaedic Surgery | Orthopaedic Trauma | Adult Reconstruction | Hand Orthopaedics | Chief Orthopaedic Trauma |
| Vascular Surgery | Pediatric Orthopaedics | Foot/Ankle | Orthopaedic Trauma | Chief Sports/General |
| Hand Orthopaedics | Research | Orthopaedic Trauma | Pediatric Orthopaedics | Chief Adult Reconstruction |
| Trauma Surgery | Tumor and Oncology | Research | Spine | Clovis Chief |
| Surgical ICU |  Hand Orthopaedics | Spine | Elective |   |
| Burns |   | Sports |   |   |
| Emergency Medicine |   | Elective |   |   |
| Anesthesia |   |   |   |   |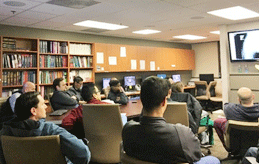 Residents are required to attend conferences held during their specialty rotations, as part of an active involvement in scholarly activities.
Orthopaedic Surgery Grand Rounds
These conferences are presentations to faculty and residents on a variety of topics relevant to orthopaedic education. Subspecialty lectures focus on Foot/Ankle, Spine, Sports, Joints and Trauma. Occasional talks are given by visiting professors, in their area of expertise. There is also a monthly Pediatric Orthopaedic Grand Rounds conference held by Valley Children's Hospital.
Orthopaedic Journal Club
During all five years, residents participate in Journal Club, with an emphasis on critical appraisal skills. Residents are asked to review articles using a worksheet that walks them through the research methodology. 
Orthopaedic X-Ray Fracture/Indications Conference
A weekly conference, alternating resident presentations on types of fractures with faculty case review presentations. Focus is on the use of x-ray films and practical departmental cases.
Specialty Conferences
The Adult Reconstruction rotations feature a weekly case review conference. For all residents, there are Hand and Shoulder/Elbow conferences twice a month, as well as a Foot/Ankle conference. There is also a monthly M&M conference.
Basic Surgical Skills Lab
Residents learn skills used in the initial management of injured patients, including splinting, casting, application of traction devices, and other types of immobilization; and basic operative skills, including soft tissue management, suturing, bone management, arthroscopy, fluoroscopy, and use of basic orthopaedic equipment.
Anatomy Lab
The Anatomy Lab is held twice a year, when available. Residents have the opportunity study and dissect anatomic specimens under the supervision of faculty. Lab agendas include:
Shoulder
Humerus & Elbow
Forearm
Wrist & Hand
Pelvis
Hip
Femur & Knee
Distal Tibia, Foot & Ankle
Spine