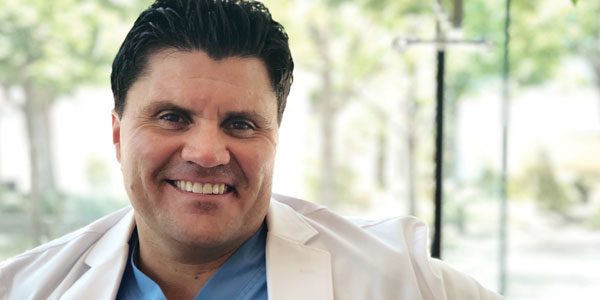 Andres Anaya, MD, is a Fresno native, Hoover High School alum and graduate of the UCSF School of Medicine. Dr. Anaya completed a four-year residency in emergency medicine. As a medical student, Anaya conducted third-year rotations in obstetrics/gynecology and surgery at UCSF Fresno. After earning his medical degree, he returned in 2014 for residency training, and graduated in 2018.
Anaya's path to becoming a physician was anything but typical. He is the eldest son of parents of Mexican descent, one, an immigrant and both of whom are deaf. His first language was American Sign Language. At the age of five, Anaya began translating for his family. Economic, cultural and social challenges soon led to academic difficulties for him at school.
Following high school, he took a job in a tire factory where he suffered an industrial accident. The accident landed him in the emergency department, leaving him temporarily paralyzed and physically and emotionally traumatized. It took several years to overcome his injuries, but from then on, he set his mind on becoming an emergency medicine physician.
Against all odds, Anaya realized his goal and is staying in Fresno to provide medical care. He is just one of the nearly 50 percent of UCSF Fresno medical residents, oral and maxillofacial surgery dental residents, physician assistants, and subspecialty fellows who stay in the Central Valley to practice after completing their training.