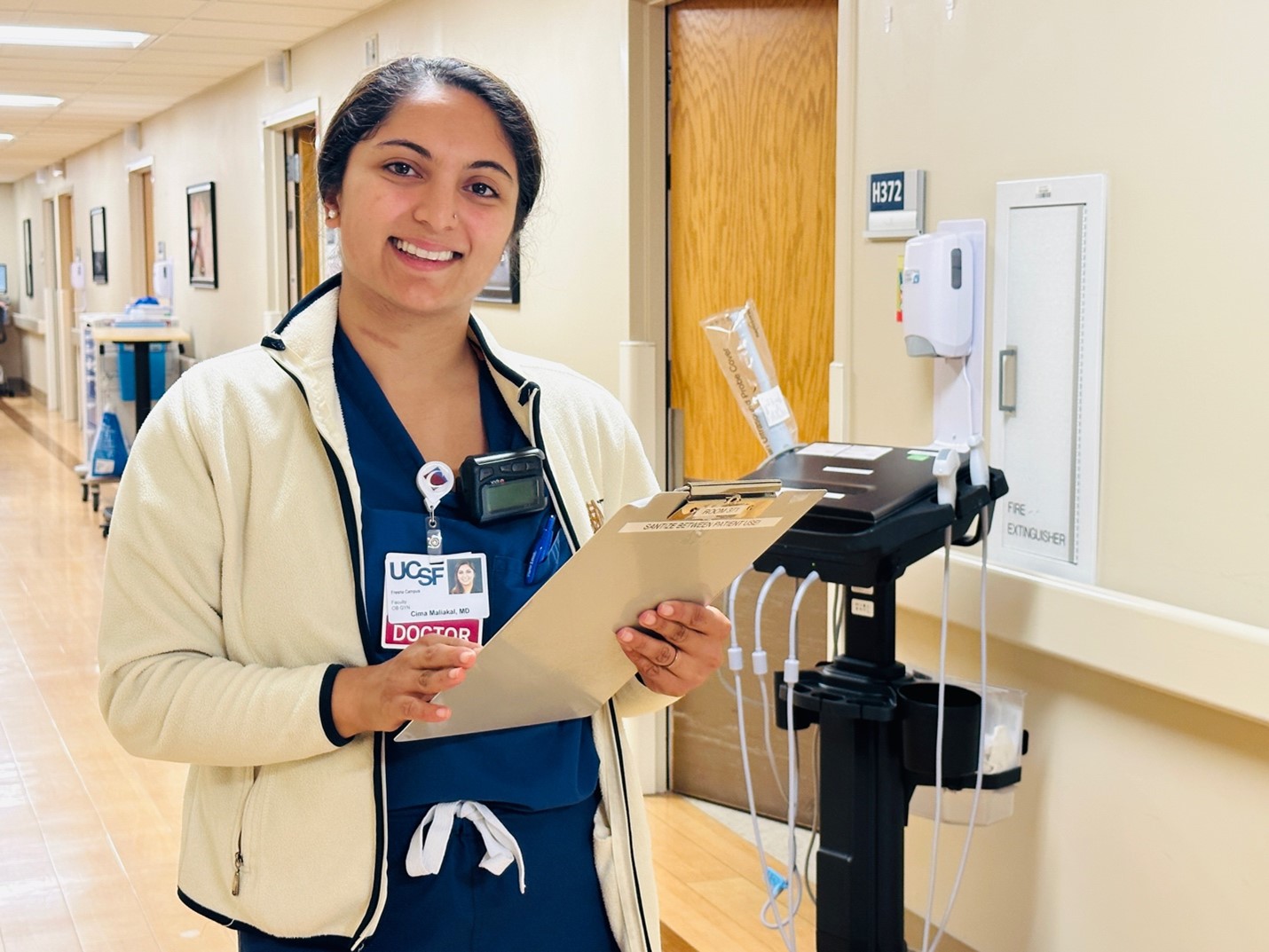 For the first time, UCSF Fresno has accepted a fellow dedicated to health equity and equality through an initiative designed to train and support physicians who are committed to caring for patients in underserved communities. 
The UCSF Fresno Department of Obstetrics and Gynecology welcomed Cima Maliakal, MD, this summer as a Health Equity Action Leadership (HEAL) fellow.  
HEAL works with underserved sites and employs site and rotating fellows. Site fellows are part of the community whereas rotating fellows like Dr. Maliakal, are based in the U.S and then alternate with global sites after 6 months to one year.  
An immersive two-year fellowship, HEAL fosters experiences in underserved areas. As a generalist OB/GYN, Dr. Maliakal will be providing gynecologic and obstetric care at Community Regional Medical Center and Family HealthCare Network (FHCN), a federally qualified health care center in Fresno. 
 
Meg Autry, MD, the OB/ GYN HEAL fellowship mentor and Interim Chief of Obstetrics and Gynecology at UCSF Fresno, is excited to have Dr. Maliakal on board because of the exposure to the unique health care challenges in the Valley. About 80% of patients at FHCN rely on state-funded insurance and 10% are uninsured. More than 50% of the population in Fresno identifies as Hispanic/Latino and Fresno County has one of the highest rates of premature birth in California, especially among people of color. 
"We're really trying to maximize her opportunities and training in caring for underserved individuals and provide strong mentorship and a network of similarly minded individuals in order to encourage people to stay here," Dr. Autry said. 
"Dr. Maliakal is going to be trained in centering pregnancy (the goal of centering pregnancy is to improve perinatal outcomes for low-income women and their infants through group prenatal care) and she is also participating in an addiction fellowship for faculty members," Dr. Autry said. 
"First and foremost, I'm here to learn about the community, my patients, and listen to what they have to say," Dr. Maliakal said. "I'm looking forward to really learning and developing my skills as a listener and as a clinician, I want to hone in on my skills to support the department and work with residents and medical students."  
HEAL fellows attend various training courses, seminars, and conferences where they learn about social and structural determinants of health, and differences in health care systems throughout the world.  
"It's teaching us how to be part of the global health care system to afford change in that manner. So, while we're clinicians, we're also working in policy and working with the health care structure itself," Dr. Maliakal said. "And then of course, focusing on the fact that there's domestic needs."  
Born in Saudi Arabia and raised in New Zealand and Australia, Dr. Maliakal came to the United States for her undergraduate studies at the University of Miami in Miami, Florida, and stayed for medical school. She then went on to complete her residency in Obstetrics and Gynecology at Georgetown University in Washington, D.C. 
Dr. Maliakal has a strong interest in the global community and working in health care systems and structures internationally. When she completes her fellowship in Fresno, her next stop will be Uganda. 
This is the first time a HEAL fellow has been placed at UCSF Fresno. "It shows the residents, both in our specialty and other specialties, that you can pursue this kind of additional training and support and mentoring for two years in under resourced settings that would then help you if you wanted to either stay here or go elsewhere," Dr. Autry said. The HEAL fellowship is also open to other disciplines including surgery, internal medicine, emergency medicine, psychiatry, family medicine, pediatrics, and anesthesia. We are hopeful that other disciplines will also follow this model.
Muhammad Shoaib Kahn, MD, faculty in the UCSF Fresno Department of Family and Community Medicine, and Casey Sautter, MD, Department of Obstetrics and Gynecology,  are HEAL graduates.   
For more information on the UCSF HEAL fellowship: https://healinitiative.org/.