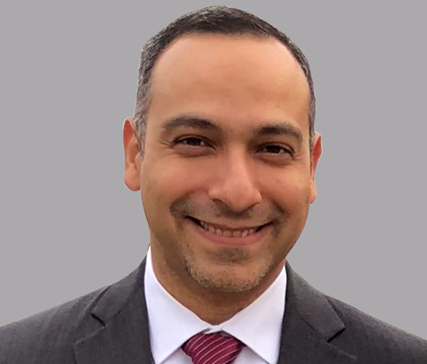 Mohamed Fayed, MD, UCSF Fresno pulmonary critical care specialist and Central California Faculty Medical Group physician, is the principal investigator in Fresno for the National Institute of Allergy and Infectious Diseases "Study to Assess the Prevalence and Outcomes of Primary Pulmonary Coccidioidomycosis (Sands-PPC)."
"I think the most important thing to me is the incidence of the disease in a population in an endemic area for community-acquired pneumonia," Dr. Fayed said. "That's always the challenging question. A lot of people labeled with community-acquired pneumonia take antibiotics, but they indeed have Valley fever which the treatment is not antibiotics – the treatment is antifungal."
Valley fever is caused by breathing the coccidioides fungus that grows in soil in certain regions of California and other southwestern states, parts of Mexico and Central and South America. The incidence of the disease is consistently high in the San Joaquin Valley. Statewide in 2019, the incidence was highest in Kern County (367.5 reported cases per 100,000), according to the California Department of Public Health (CDPH). Other counties with high incidence rates were Kings, 140.5 per 100,000; Tulare, 87.9 per 100,000; Fresno, 60.8 per 100,000 and Madera, 40.9 per 100,000.
Research to improve the health and wellbeing in Central California is integral to UCSF Fresno's mission and focusing a spotlight on Valley fever in the endemic San Joaquin Valley is consistent with that purpose. "It is a disease that needs a lot of attention, and we don't have a lot of progress on it. Very slow progress. I think we need to continue to research this disease," Dr. Fayed said.
The Sands-PPC study could show Valley fever cases are even greater in the San Joaquin Valley than reported.
According to the federal Centers for Disease Control and Prevention, tens of thousands more illnesses likely occur nationwide than are reported and people may be misdiagnosed because many patients are not tested for Valley fever. "In highly endemic areas such as the Phoenix and Tucson metropolitan areas of Arizona, Valley fever causes an estimated 15% to nearly 30% of community-acquired pneumonias, but low testing rates suggest that Valley fever is probably under-recognized," the CDC says.
"I always get suspicious when I have a patient who has a diagnosis of community-acquired pneumonia," Dr. Fayed said.
Oftentimes, those infected with Valley fever have no symptoms or mild cold-like symptoms, but the disease can be serious – and even fatal. The CDPH says more than 1,000 people are hospitalized in California – and there are more than 80 deaths – each year.
"The true devastation is the people who develop chronic pulmonary coccidioidomycosis – these are the people who have disease that can cause recurrent symptoms, blood bleeding from the lung and other symptoms," Dr. Fayed said. "And the worst is to get disseminated disease, meaning the fungus was able to go to different organs from the lung. It can go anywhere, the most fatal one is the brain, where it can cause meningitis. But it can go to other organs, skin particularly is one we have seen quite a bit. It can go to the liver. It can go to kidneys. It can go anywhere," he said.
It is important for people to be correctly diagnosed with Valley fever so they can receive appropriate and early treatment, Dr. Fayed said. "A lot of people are seen later with complications."
UCSF Fresno is continuing to enroll individuals in Step 1 of the Sands-PPC study to identify people with Valley fever among those diagnosed with community-acquired pneumonia, but it has completed enrolling individuals in Step 2 to compare clinical outcomes of patients with primary pulmonary coccidioidomycosis who receive early antifungal treatment versus those who do not receive the therapy. The study's hypothesis is that early treatment with antifungal therapy is effective in reducing the frequency, severity and associated adverse outcome of infection with recently acquired coccidioidomycosis.
"The problem is the disseminated disease – the devastating complications of Valley fever – by diagnosing it early, it can be lifesaving, Dr. Fayed said.