UCSF Fresno's success and growth are a direct result of the dedication and inspiration of our faculty, staff, residents, fellows, students, alumni, partners, donors and friends. In each issue of Focus, we introduce you to the people who contribute to the greatness of UCSF Fresno through informal interviews.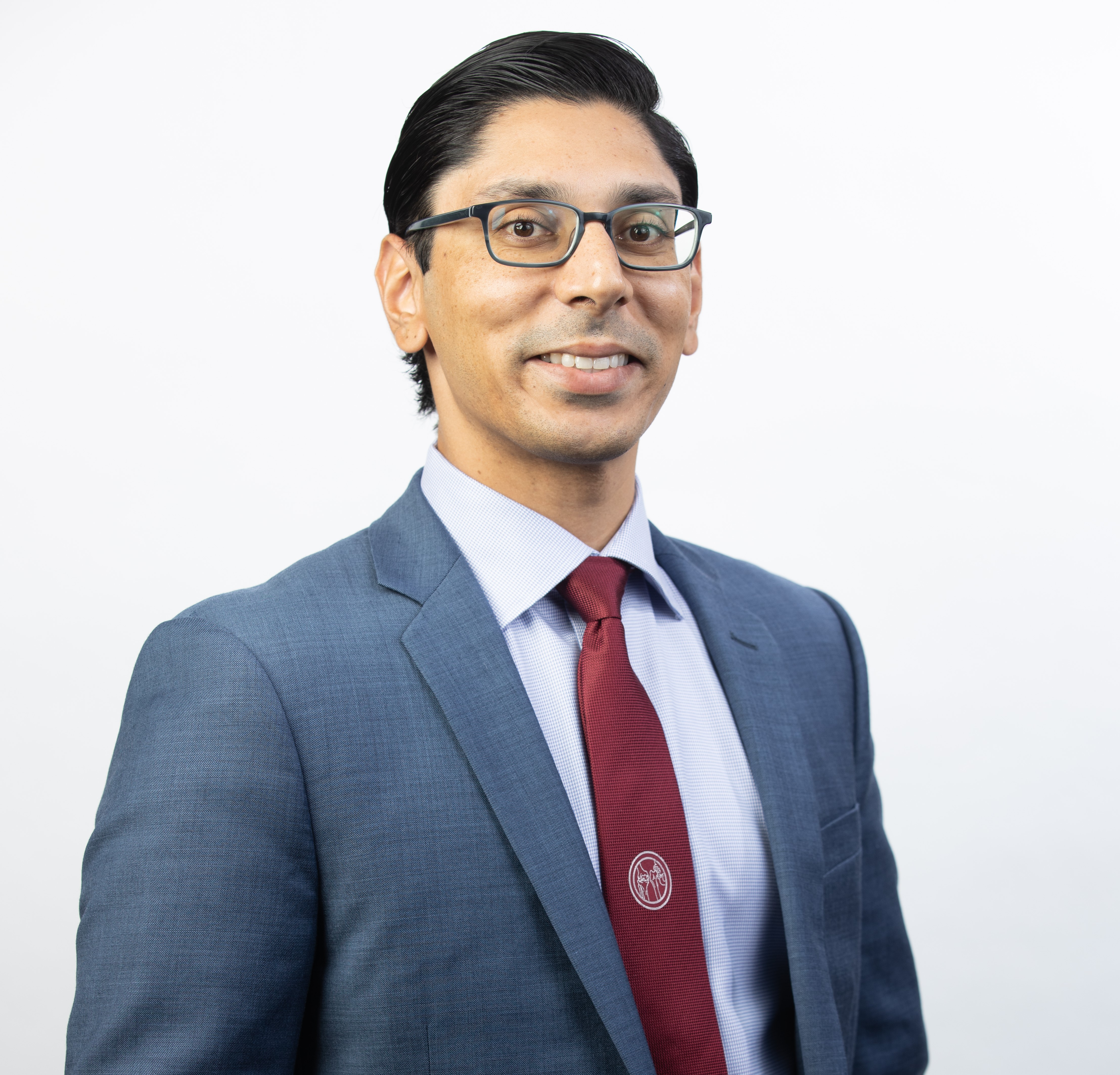 This month, meet Amin Raj, MD, Assistant Professor of Orthopaedic Surgery at UCSF Fresno and adult reconstruction surgeon at University Orthopaedic Associates.
What is your name? Nickname?  
Raj Amin, MD, my name is pretty short so don't have much of a nickname.
What is your hometown? Where did you go to school? High School? Undergrad? Medical School? Residency and advanced training
I grew up in Fresno, California. I went to Valley Oak Elementary, Kastner Intermediate and Clovis West High School. I did my undergraduate and medical school at Michigan State University as part of their combined BS/MD program. I trained in Orthopaedic Surgery at Johns Hopkins Hospital and did my fellowship in Adult Reconstruction at Stanford University Hospital.
​ 
What is you title and role at UCSF Fresno in the Department of Orthopaedic Surgery? 
I am an Assistant Professor of Orthopaedic Surgery at UCSF Fresno and adult reconstruction surgeon. I am responsible for performing hip and knee replacement and revision. I specialize in robotic based surgery. I am also responsible for helping to teach the residents.
What brought you back to Fresno after having completed residency and fellowship training? 
I came back to Fresno for several reasons. The most important one is that my dad was a psychiatrist in the community for over 30 years. We, unfortunately, lost him to COVID during my fellowship year. I needed to come back home to help take care of my family. Independent of my father, I also love Fresno and think it is a great place to raise a family. The opportunity to work at University Orthopaedic Associates/UCSF Fresno Department of Orthopaedic Surgery is also unbeatable. I can focus on joint replacement surgery and help build robotic technology in the Central Valley. I have excellent partners who I work with which made coming back to Fresno an easy choice all around. 
Why did you decide to become a physician? And why did you pick your specialty? 
As a kid, I watched what my dad did and always knew I wanted to be a physician. There were many days we'd be out in the community, and he would have a patient or family member come up to thank him for what he did for their loved one. I picked orthopaedics because I saw the effect of physical dysfunction on livelihood when I would visit my parents' hometowns in Botswana and Kenya. There, I saw that if you had musculoskeletal dysfunction, it was very difficult to provide for yourself and your family. I wanted to become an orthopaedic surgeon so that I could participate in service trips abroad to help those in need. I had the opportunity to do a service trip during my third year of residency where we went to Guyana and did 75 hip and knee replacements in 4 days. These patients were incredibly grateful, and you could see the immediate impact the surgery had on their mental and physical function. From that trip on, I knew I wanted to be an adult reconstruction surgeon.
What is at the top of your professional (teaching, patient care, research, etc.) to-do list right now?
Fresno is my hometown, and I'm passionate about providing the best care to the community. Far and away, at the top of my professional list is to provide the best level of care I possibly can to the people of the Central Valley. 
The zombie apocalypse is coming. Which three people from UCSF Fresno would you pick to be on your team and why?   
I'd have to pick my three partners. First, I'd pick Arbi Nazarian, MD, because he could likely physically overpower them. Second, I'd pick Nathan Hoekzema, MD, because he has the most incredible general knowledge base I've ever seen. I'm sure tucked somewhere in there is his knowledge of zombie kryptonite. Finally, I'd pick Geoffrey Rohlfing, MD, because if all else fails, I'm sure he could avoid the zombies coming for us with his guitar playing skills. 
What do you like to do in your off time? 
I don't have that many hobbies per se. I enjoy spending time with my family and friends in Fresno and catching up on lost time from the last 14 years. I do enjoy cars and have been able to experience the car club culture in Fresno. There are a lot of unique and wise minds in that arena, and it is always fun to pick their knowledge base. I also learned to enjoy gardening. I'm not an outdoor person. It was my dad's favorite hobby, and his yard was his prized possession. I try my best to keep it up for him. 
What is the most important thing you would like people to know about you? Or what else would you like to add about you, your background, family, or career? 
Above all else, I hope that people know my goal is to provide the best patient care. When my father was sick at Community Regional Medical Center, I saw some amazing doctors, nurses, and therapists there who took care of him. It was midway through my fellowship, and I was able to witness for the first-time health care from a patient and family perspective rather than as a physician. It redefined to me what it meant to really take care of a patient and I took home some great learning lessons. I think back fondly on what some of those providers did for me and my family during that time, and since then I have really placed an emphasis on making sure that I try to deliver the highest level of care to my patients as well.