Growing up as a Hmong immigrant in California's San Joaquin Valley, Tou Bee Thao of Fresno has firsthand experience with the cultural, social and health disparities that affect Hmong and other underserved communities. Similarly, Rhiannon Olivarez-Kidwell of Merced is all too familiar with the disparities that exist in her community and across the Valley through her family's tradition of community service and her own experience of living with a rare disease. This back-to-school season, both are responding to the health concerns and access to care challenges that exist in the region as first-year medical students in the UCSF San Joaquin Valley Program in Medical Education (SJV PRIME).
SJV PRIME is a tailored track at the UCSF School of Medicine that is preparing future physician leaders from the San Joaquin Valley to provide high quality, equitable and culturally responsive care, especially for under-resourced communities in the vast region.
"As a Fresno native, I take immense pride in my community and am deeply committed to its ongoing prosperity," said Thao. "SJV PRIME equips us to care for families in the San Joaquin Valley beyond what textbooks can teach. It provides insights into the unique health disparities within our community and connects us with invaluable resources, including community-based organizations and local health care facilities."
The Bridges Curriculum prepares UCSF medical students to become physician leaders committed to advancing health for all. All UCSF medical students learn the UCSF 49, a group of core syndromes and disorders impacting the San Francisco Bay Area that anchors their journey through the Bridges Curriculum. In addition to the UCSF 49, UCSF SJV PRIME students learn about health topics specific to the Valley including immigrant health, diabetes and obesity, coccidioidomycosis (Valley fever), methamphetamine use syndrome, pre-term birth and human trafficking, collectively known as the SJ 6.
Close ties are formed among SJV PRIME students as they progress through the program with classmates who share similar backgrounds and lived experiences. For example, even before he started medical school, over the summer, Thao participated in a Hmong Health and Culture Fair. The event was organized by SJV PRIME students of Hmong descent along with Fresno Interdenominational Refugee Ministries (FIRM), a non-profit organization in southeast Fresno.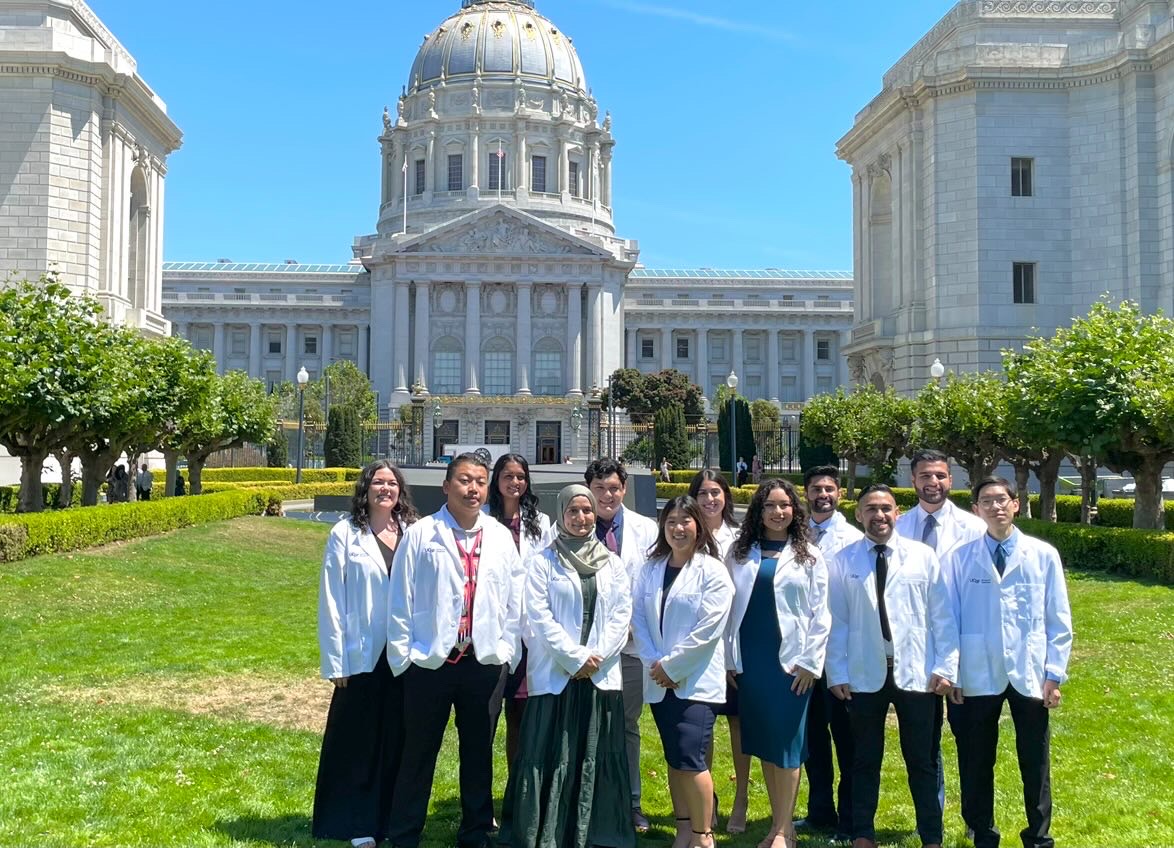 Each year, 12 students are admitted to SJV PRIME. SJV PRIME students spend 18 months learning at UCSF in San Francisco. They then spend the remainder of their education (about two and a half years) training at UCSF Fresno. Students in the recently admitted Class of 2027 come from Bakersfield, Cantua, Clovis, Fresno, Kerman, Lodi, Merced, Selma and Winton.
"The first two months of medical school as part of SJV PRIME have been a whirlwind of new faces and familiar places," said Olivarez-Kidwell. "As members of a team focused on bringing quality medicine to our home, friendships formed fast and in just two months, my SJV PRIME colleagues and classmates have become some of my best study buddies, my favorite people to celebrate with, my most trusted sources of advice, and my closest friends."
The first week of medical school for SJV PRIME students is spent at UCSF Fresno. Students in the Class of 2027 recently spent time at the Poverello House in Fresno where they provided health education and blood pressure screenings for unsheltered individuals. They also visited middle and high school students who are participating in the UCSF Fresno Doctors Academy programs.
"I'm most excited for SJV PRIME's community outreach events," said Olivarez-Kidwell. "From working with students at Valley schools to providing high quality medical care in rural areas with the UCSF Fresno Mobile HeaL team, community outreach is the heart of this program and the part that makes me the happiest." 
Thao learned about SJV PRIME at Fresno State where he was part of the Health Careers Opportunity Program and was mentored by SJV PRIME students. Olivarez-Kidwell discovered SJV PRIME while considering UCSF during the medical school application period.
This back-to-school season also welcomed the first cohort of San Joaquin Valley PRIME+, a baccalaureate/MD program designed to expand high-quality medical education to students who are committed to a career in medicine serving the San Joaquin Valley. The eight-year program is a partnership between the UCSF School of Medicine, its regional campus UCSF Fresno, and UC Merced. The program is based entirely in the San Joaquin Valley, enabling students to stay connected with family, friends, and their local communities. The first class of 15 students—all from the Valley—took the initial step of their educational journey at UC Merced this fall.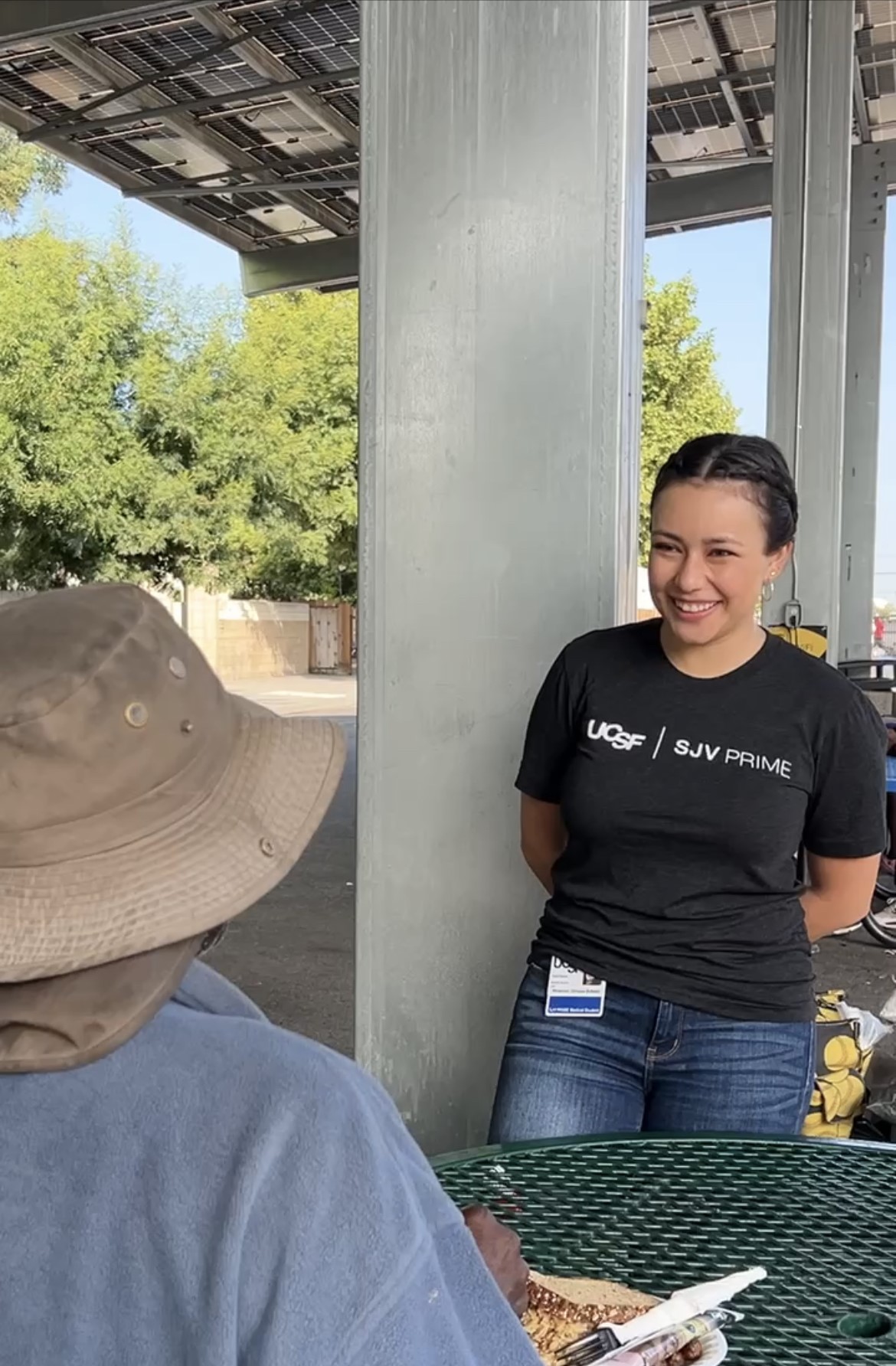 "This has been a year of milestones and a busy back-to-school season. Through SJV PRIME, we are addressing the physician shortage in the region and training future physicians who understand the Valley's unique health care challenges and who are dedicated to providing care to the underserved," said Loren I. Alving, MD, director of UCSF SJV PRIME. "We graduated the inaugural cohort of students from UCSF SJV PRIME. We admitted our fifth cohort of SJV PRIME students—the Class of 2027—in parallel with the first cohort of SJV PRME+. The energy and momentum are exciting."
Back-to-school season always is a busy time. The adjustment period and learning curve for new medical students is particularly steep, but Thao and Olivarez-Kidwell are focused and committed.
"As someone who grew up in the San Joaquin Valley, I'm familiar with this area's dearth of physicians and the health disparities that come with it," said Olivarez-Kidwell. "I've known for a long time that I wanted to return to serve the Valley as a physician." 
"I am looking forward to finishing the 18 months of school at UCSF and coming back to Fresno for rotations," said Thao. "Returning to my community for clinical rotations is an opportunity for me to learn and make an impact in the lives of those who call the San Joaquin Valley home." 
SJV PRIME started in 2011 as a partnership between the UC Davis School of Medicine, UC Merced, UCSF School of Medicine and UCSF Fresno. UCSF became the degree-granting institution in 2018. The inaugural cohort of six UCSF SJV PRIME students entered in 2019 and graduated this past summer. Three of the six graduates in the first cohort matched with UCSF Fresno residency programs. Two matched with other University of California residency programs, and one matched with a U.S. military program.