No Need to Leave the Area for Expert Care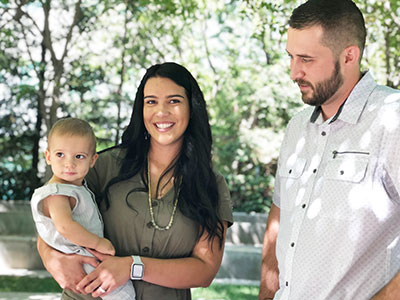 One in 2,500 babies is born with craniosynostosis, a birth defect in which one or more of the bones in the skull fuse prematurely, preventing the skull from growing properly. Unfortunately, for Greg and Melody Swarthout of Tulare, their baby, Troy, was that one, which Melody noticed early on.
"At birth, he had a ridge down the center of his head that our other boys didn't have," she said.
They took a watch and wait approach initially, but the mother of three observed Troy's head was growing in an oval shape. Worried and scared, Greg and Melody looked online for other parents dealing with the same issue. That's when they learned about craniosynostosis. While the exact cause is unknown, there may be a genetic link.
"A lot of families went to the Bay Area for care," said Greg. The Swarthouts followed up with their pediatrician, who referred them to the UCSF Fresno/Community Medical Center Cleft and Craniofacial Center after hearing a presentation by George Zakhary, DDS, MD, FACS.
A CT scan confirmed what they had suspected. Troy's skull was developing in an oblong shape like a football. If not fixed, the head shape deformity would persist, causing complications, ranging from permanent head and facial deformity to developmental delays, cognitive complications, blindness or other eye problems, seizures, and in rare cases, death.
Dr. Zakhary, a faculty member with the UCSF Fresno Oral and Maxillofacial Surgery (OMFS) Residency Program, reassured the Swarthouts that Troy's condition could be fixed.
Within weeks, Troy was scheduled for surgery. Zakhary along with Yu-Hung Kuo, MD, interim chief of neurosurgery at UCSF Fresno, performed the operation mid-week and by Saturday, Troy was home.
Troy's condition required a cranial vault reshaping surgery, performed by Dr. Kuo, and involved removing the affected parts of Troy's skull. Dr. Zakhary then reconstructed the pieces into the correct shape and positioned them with resorbable plates and screws. Resorbable plates and screws hold the pieces of skull together and completely dissolve after the bones have healed. Once the bones have healed, three to six months after surgery, his skull will be as strong and typical as any other child.
The surgery lasted four hours and required a pediatric anesthesiologist and nursing team. Recovery was fast. Not long after the surgery, Troy started walking at nine months.
"Troy's outlook is great," said Zakhary. "He is developing like any other child without craniosynostosis."
"It's amazing looking at the before and after CT scans," said Melody. "It's also amazing how quick it was (the whole process). If he didn't have a scar, I don't think you'd be able to tell he had surgery."