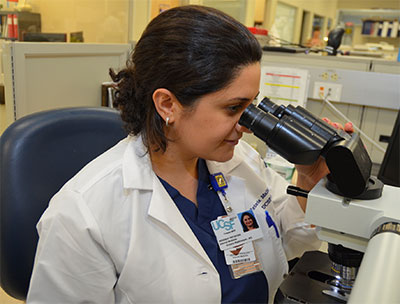 Physician-scientists at UCSF Fresno are committed to translating scientific discoveries and laboratory breakthroughs into improved patient therapies. UCSF Fresno currently has more than 250 open research studies, as well as numerous public-service projects aimed at offering improved health outcomes and effective treatment s for diseases such as asthma, diabetes, Valley fever, and many other health conditions more prevalent to Valley residents. Your support will help expand clinical trials and pilot new research.
Continuing a seven-year trend, UC San Francisco retained its position as the top public recipient of National Institutes of Health funding. As a branch campus of UCSF, UCSF Fresno is very much focused on research. Medical research conducted at UCSF Fresno brings cutting-edge treatments to Fresno and the San Joaquin Valley.
The UCSF Fresno Clinical Research Center (CRC) is a dedicated research facility inside the UCSF Fresno Center for Medical Education and Research. The CRC employs 20 research staff members who oversee the operation of more than 60 clinical trials currently taking place at UCSF Fresno.
Studies are led by UCSF faculty at UCSF Fresno. Funding is provided by the National Institutes of Health, U.S. Department of Defense, California Office of Health Hazard Assessment, Central California Faculty Medical Group, the David and Marilyn Britz family, the Larry L. Hillblom Foundation and dozens of pharmaceutical and medical device companies.
In addition, UCSF Fresno researchers are conducting local population-based studies, including an NIH-funded study investigating the effects of air pollution on immune cell function in pregnant women and newborns and in the subsequent development of allergies in children, and a separate, Cal EPA-sponsored study on the impacts of environmental chemical exposures during pregnancy (including air, water and food) on prenatal development.
Click here for a complete list of sponsored studies