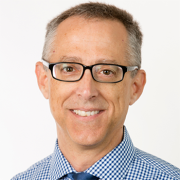 Brian Chinnock, MD
Brian Chinnock, MD, RDMS
Research Director, Emergency Medicine, UCSF Fresno
Clinical Professor of Emergency Medicine, UCSF
Director, SJV PRIME Arch, UCSF Fresno
Brian Chinnock, MD, is board certified in Emergency Medicine.
He earned his medical degree at University of Arizona, Tucson. His residency in Emergency Medicine was completed at University of California, San Francisco, Fresno where he served as a chief resident.
Dr. Chinnock has won many teaching awards including Top Resident Teacher and Top Medical Student Teacher at UCSF Fresno Department of Emergency Medicine and Outstanding Faculty Award at Texas Tech Health Sciences Center. He has also won the Faculty Research Award and the Henry J. Kaiser for Excellence in Teaching Award.