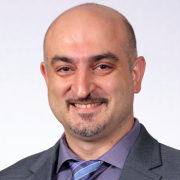 Arbi Nazarian, MD
Arbi Nazarian, M.D.
Assistant Professor, UCSF
Arbi Nazarian, M.D., is fellowship trained in the reconstruction of adult joints and orthopaedic surgery.
Dr. Nazarian attended the University of California, Los Angeles for his Bachelor of Science in biology. Upon completion of his undergraduate degree, he matriculated to the College of Health Professions in the Rosalind Franklin University of Medicine and Science for his Master of Science in Biomedical Sciences and also completed a master's degree in Healthcare Management and Administration. Dr. Nazarian then went on to earn his medical degree from Chicago Medical School at the Rosalind Franklin University of Medicine and Science.
After completing his education, Dr. Nazarian participated in a residency in Orthopaedic Surgery at UCSF Fresno. During this residency, Dr. Nazarian was awarded the Surgeon's Award for the Orthopaedic Surgery Residency Program. While completing his residency, Dr. Nazarian was also a sideline physician for the Fresno State Bulldogs sports covering home games and taking care of athletes injured on the field. He then went on to a fellowship in Adult Reconstruction of the knee and hip joints at Ruby Memorial Hospital at West Virginia University.
Dr. Nazarian is a member of the American Academy of Orthopaedic Surgeons and the American Association of Hip and Knee Surgeons. His professional interests include the reconstruction of joints in adults, biomechanical prostheses, and fracture fixation devices.
Dr. Nazarian knew he wanted to be a doctor from a young age by watching his grandfather who was a bone-setter work on patients by mending their fractures, bruises, and joint pain with a combination of oils, roots, and other old remedies.
Outside of his research and office time, Dr. Nazarian likes to spend time with his wife and kids, and take part in a variety of sporting activities.
Dr. Nazarian is fluent in Armenian, Farsi, and Spanish.