UCSF Fresno Celebrates the Class of 2023, New Doctors for the Central Valley and California
FRESNO - It takes 11 years or more to produce a practicing physician after high school, depending on the specialty. UCSF Fresno will celebrate the completion of years of training for more than 100 graduates including medical residents and fellow physicians, Oral and Maxillofacial Surgery dental residents, a Head and Neck Oncology and Microvascular Reconstruction fellow and two Emergency Medicine physician assistants.
Thursday, June 15
4:30 p.m. Reception
6 p.m. Commencement Ceremony
Fresno City College
1101 E. University Ave., in Fresno
The San Joaquin Valley has one of the lowest number of doctors per 100,000 people in California. And about 30 % of the physicians in the region are at or nearing retirement age. UCSF Fresno is the largest academic physician training program in the Valley and the biggest contributor adding physicians to the region's workforce.
Residency is the required hands-on clinical training (postgraduate training) when clinicians fine tune skills under the guidance of attending faculty members prior to practicing independently. Fellowships are advanced training after residency and are instrumental to retaining residents who wish to continue their medical education in a particular sub-specialty.
2023 Commencement Highlights:
83% or five of the six graduating Psychiatry residents will stay in the Central Valley to provide much needed mental health care
52% or 13 of the 21 graduating internal medicine residents including chief residents will stay in the Central Valley to provide primary care
The Advanced Cardiac Imaging Fellow will stay at UCSF Fresno for a Cardiovascular Disease Fellowship and the Hepatology Fellow will stay at UCSF Fresno for a Gastroenterology Fellowship
60% of UCSF Fresno graduates will remain in California to provide care
Graduates from Community Health Systems' General Dentistry Residency program also will be recognized during the commencement program
As a regional campus of UCSF, UCSF Fresno carries out its training and patient care through a network of affiliated partners including Community Health System, VA Central California Health Care, Family HealthCare Network, University Centers of Excellence and many other clinical sites.
"Commencement is the celebration of the culmination of years of training, hard work, commitment and dedication exhibited by our graduating residents and fellows," said Stacy Sawtelle Vohra, MD, Designated Institutional Official and Emergency Medicine Residency Program Director at UCSF Fresno. "We applaud them as they enter the next phase of their careers and are thrilled that many are staying in the Valley to care, teach, heal and conduct clinical research that addresses Valley health issues."
"For some of the graduates who completed medical school during the COVID-19 pandemic, this will be the first time celebrating a medical education graduation in person," said Steven Tringali, DO, Acting Director, Clinical Affairs, and Internal Medicine Residency Program Director at UCSF Fresno. "We are grateful for the tremendous teamwork they have afforded one another, the compassionate care they provide to our patients, and the contributions they have made to our regional campus and community."  
Among the 2023 UCSF Fresno graduates: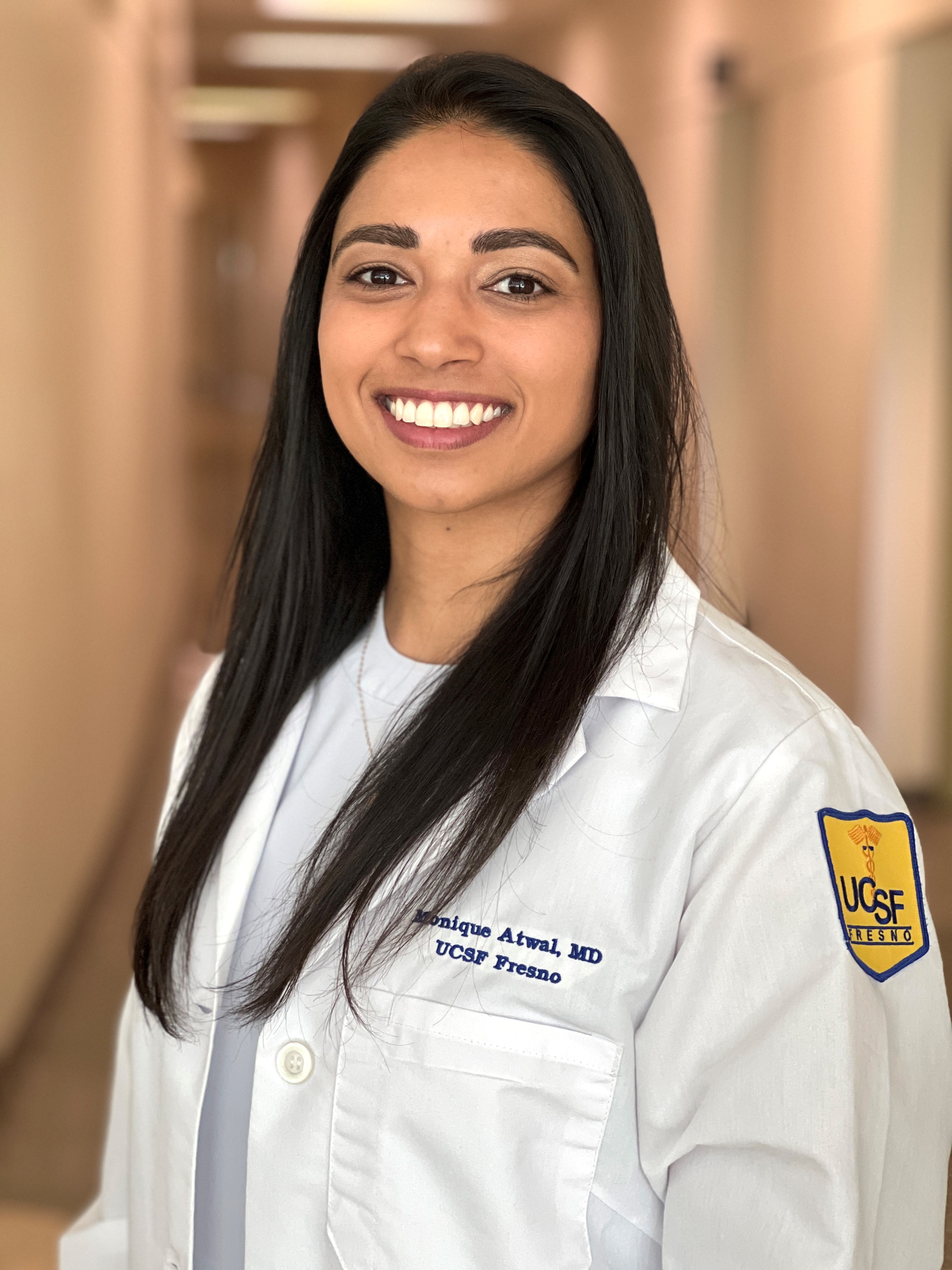 Selma native Monique Kaur Atwal, MD, is completing a four-year residency training program in Psychiatry at UCSF Fresno. After graduation, Dr. Atwal will work for the Fresno County Department of Behavioral Health Transitional Age Youth Program and serve as volunteer Psychiatry faculty at UCSF Fresno. Dr. Atwal is a graduate from the UC San Joaquin Valley Program in Medical Education (SJV PRIME) and UCSF Fresno Sunnyside High School Doctors Academy. She became a physician because she enjoys helping others and grew up in a community where access to health care was limited.
Visalia native Brandon J. Croft, MD, is completing a three-year residency training program in Internal Medicine at UCSF Fresno. After graduation, he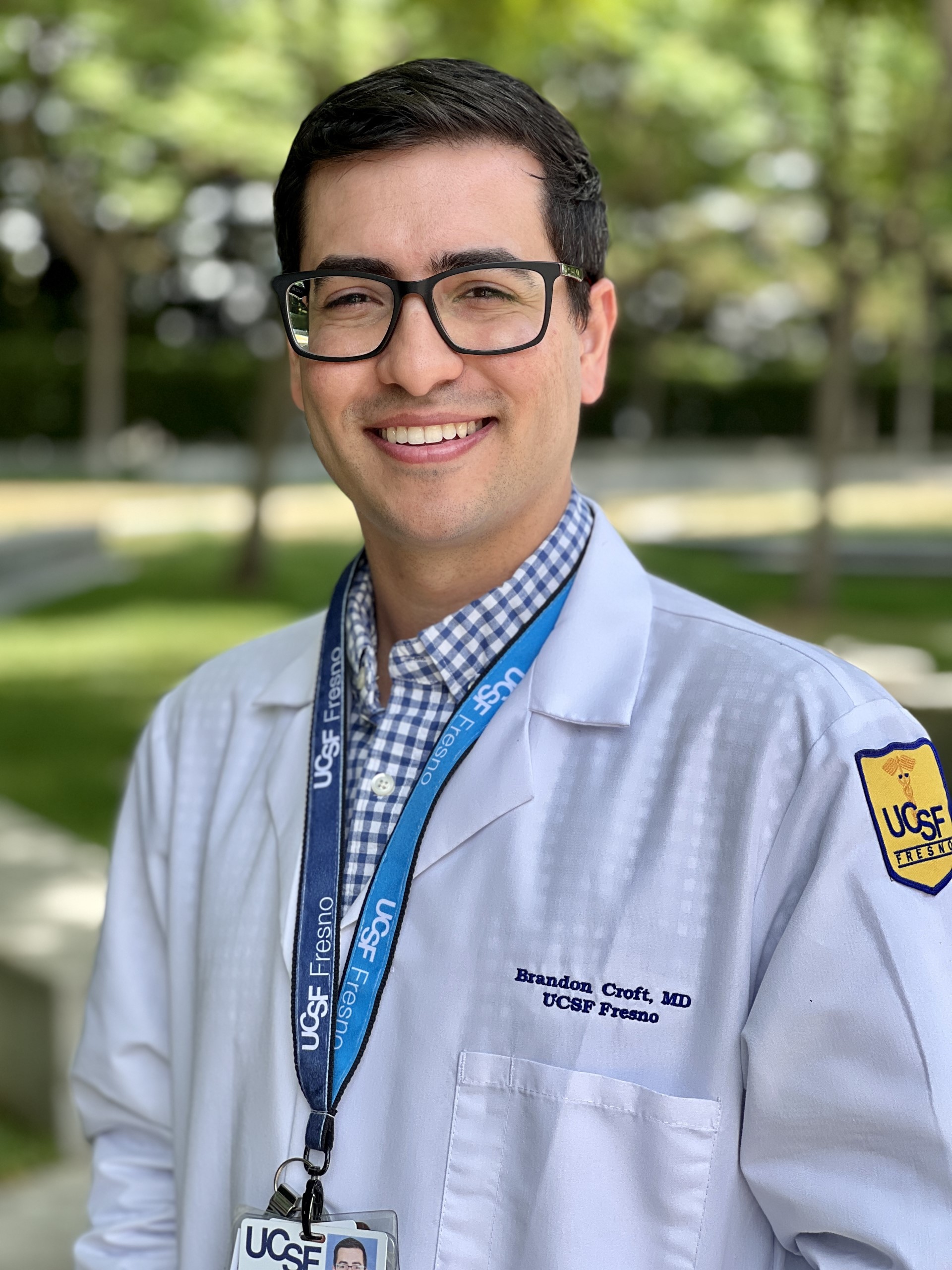 will continue his education in the three-year UCSF Fresno Pulmonary and Critical Care Medicine Fellowship. By the time he completes his graduate medical education, he will have spent six years training at UCSF Fresno, but Dr. Croft's first exposure to the UCSF School of Medicine regional campus in Fresno was 10 years ago in 2013. Prior to entering medical school, he worked in the UCSF Fresno Clinical Research Center and as a scribe with the UCSF Fresno Department of Emergency Medicine. Scribes are employed by Central California Faculty Medical Group and work with UCSF Fresno Emergency Medicine physicians to document patient information at Community Regional Medical Center.  He also studied at UCSF Fresno from 2018 to 2020 as a student in the UC San Joaquin Valley Program in Medical Education (SJV PRIME).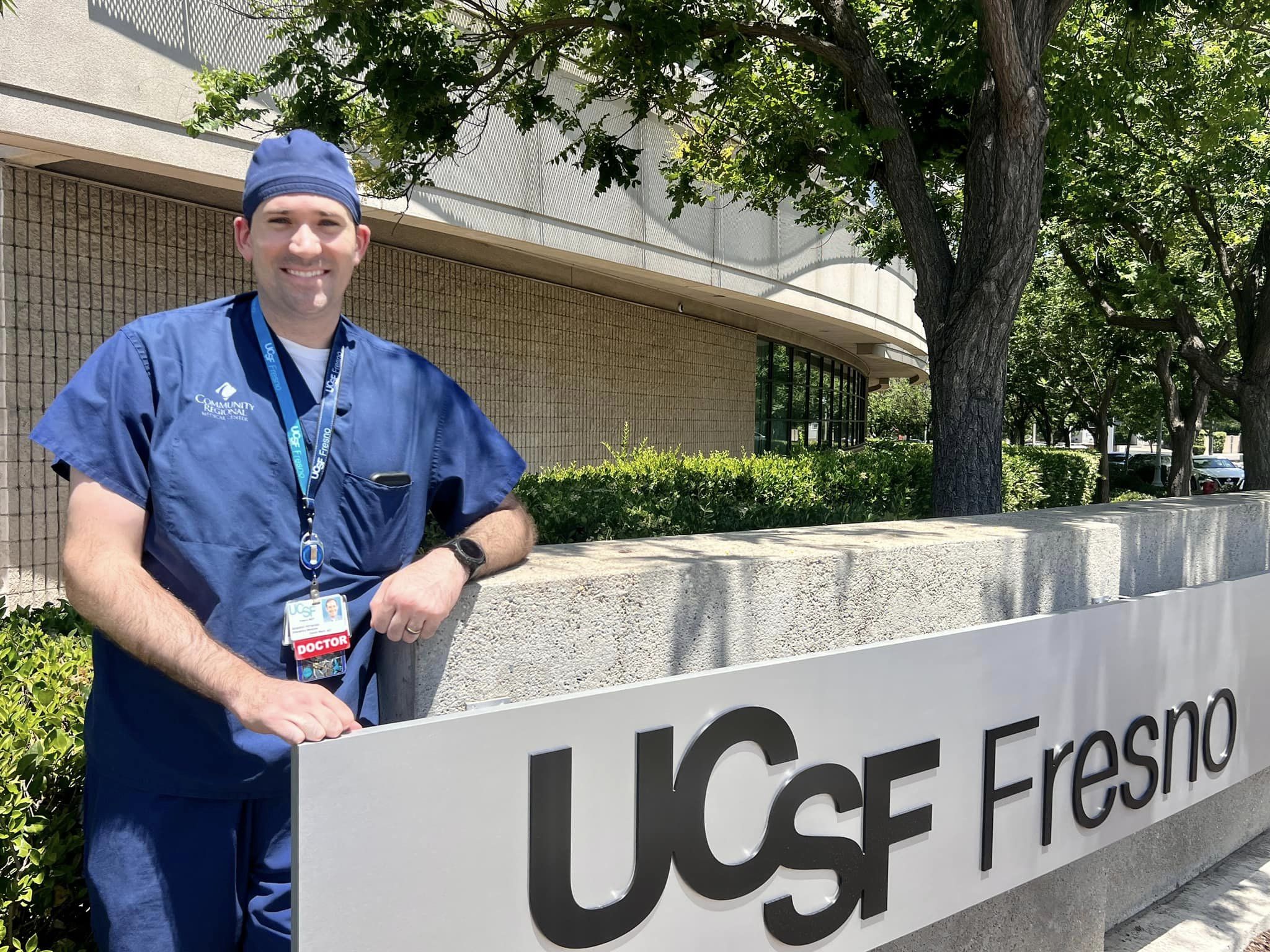 Dan Ward, MD, is completing a four-year residency training program in Emergency Medicine at UCSF Fresno. After graduation, he will serve as an active-duty Emergency Medicine physician in the U.S. Air Force and will stay on at UCSF Fresno as per diem faculty.  Dr. Ward was motivated to pursue a career in medicine as a child when he watched his mother receive care for a debilitating autoimmune condition.  Dr. Ward was born and raised in Fresno. He attended Bullard High School and graduated Magna Cum Laude with a bachelor's in chemistry from Fresno State as part of the Smittcamp Family Honors College. He also receivedassociate degrees in engineering, Mathematics and Health Information Technology from Fresno City College. He earned a medical degree from the UCSF School of Medicine.
Tania Zavalza Jimenez, MD, is completing a three-year residency training program at UCSF Fresno in Family and Community Medicine. After graduation, she will stay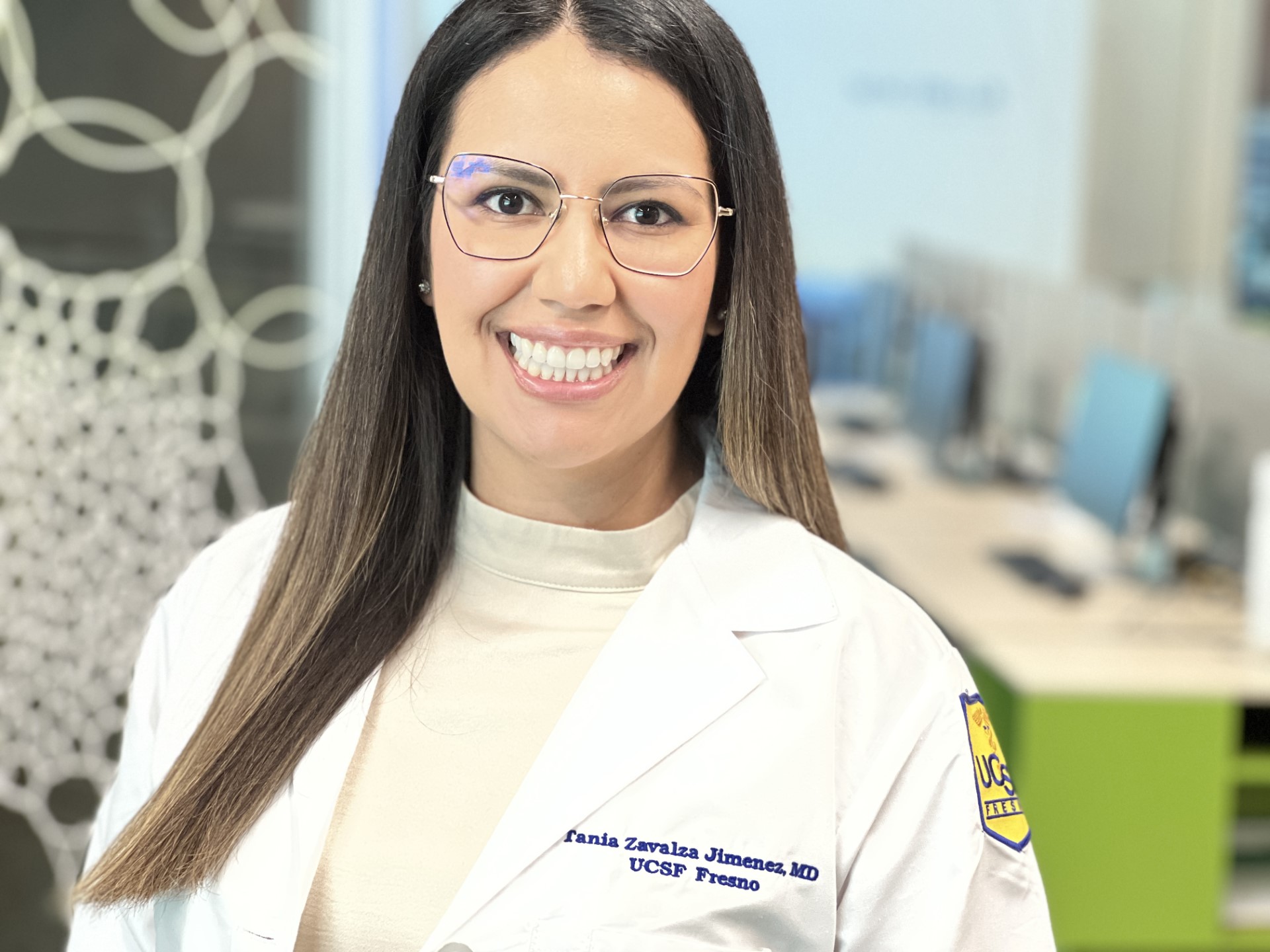 on as faculty in the Family and Community Medicine Department. Born in Mexico, Dr. Zavalza Jimenez moved to San Francisco with her family and then relocated to Turlock. A desire to help people, especially the underserved and those who do not speak English, motivated her to become a physician. She also felt called to work with undocumented and migrant communities. Being undocumented herself at one point, made college and becoming a doctor more challenging, she said.
About UCSF Fresno: UCSF Fresno is a regional campus of the UCSF School of Medicine and UCSF, the leading institution dedicated exclusively to the health sciences. Established in 1975, UCSF Fresno is focused on improving health in California's San Joaquin Valley through excellence in teaching and patient care, innovative clinical research and community partnerships. UCSF Fresno is the largest academic physician-training program between San Francisco and Sacramento to the north and Los Angeles to the south. UCSF Fresno trains about 300 physicians and 300 rotating medical students including students in the UCSF San Joaquin Valley Program in Medical Education each year. Nearly 700 UCSF core and volunteer faculty at UCSF Fresno care for thousands of patients annually and train the next generation of outstanding clinicians and patient advocates. Roughly 50 % of the physicians trained at UCSF Fresno stay in the Valley to provide UCSF care. In addition, UCSF Fresno helps prepare middle, high school and college students for careers in health and medicine through a variety of pathway programs. Please visit www.fresno.ucsf.edu
Follow UCSF Fresno
fresno.ucsf.edu | Facebook.com/UCSFFresno | Twitter.com/UCSFFresno | Instagram.com/ucsffresno
About UCSF: The University of California, San Francisco (UCSF) is exclusively focused on the health sciences and is dedicated to promoting health worldwide through advanced biomedical research, graduate-level education in the life sciences and health professions, and excellence in patient care. UCSF Health, which serves as UCSF's primary academic medical center, includes top-ranked specialty hospitals and other clinical programs, and has affiliations throughout the Bay Area. The UCSF School of Medicine also has a regional campus in Fresno.  
Follow UCSF
ucsf.edu | Facebook.com/ucsf | Twitter.com/ucsf | YouTube.com/ucsf