UCSF Fresno will celebrate the 2023 Resident and Fellow Commencement on June 15. Fresno native Dan Ward, MD, is among the graduates. Dr. Ward is completing a four-year residency training program in Emergency Medicine at UCSF Fresno. After graduation, he will serve as an active-duty Emergency Medicine physician in the U.S. Air Force and will stay on at UCSF Fresno as per diem faculty.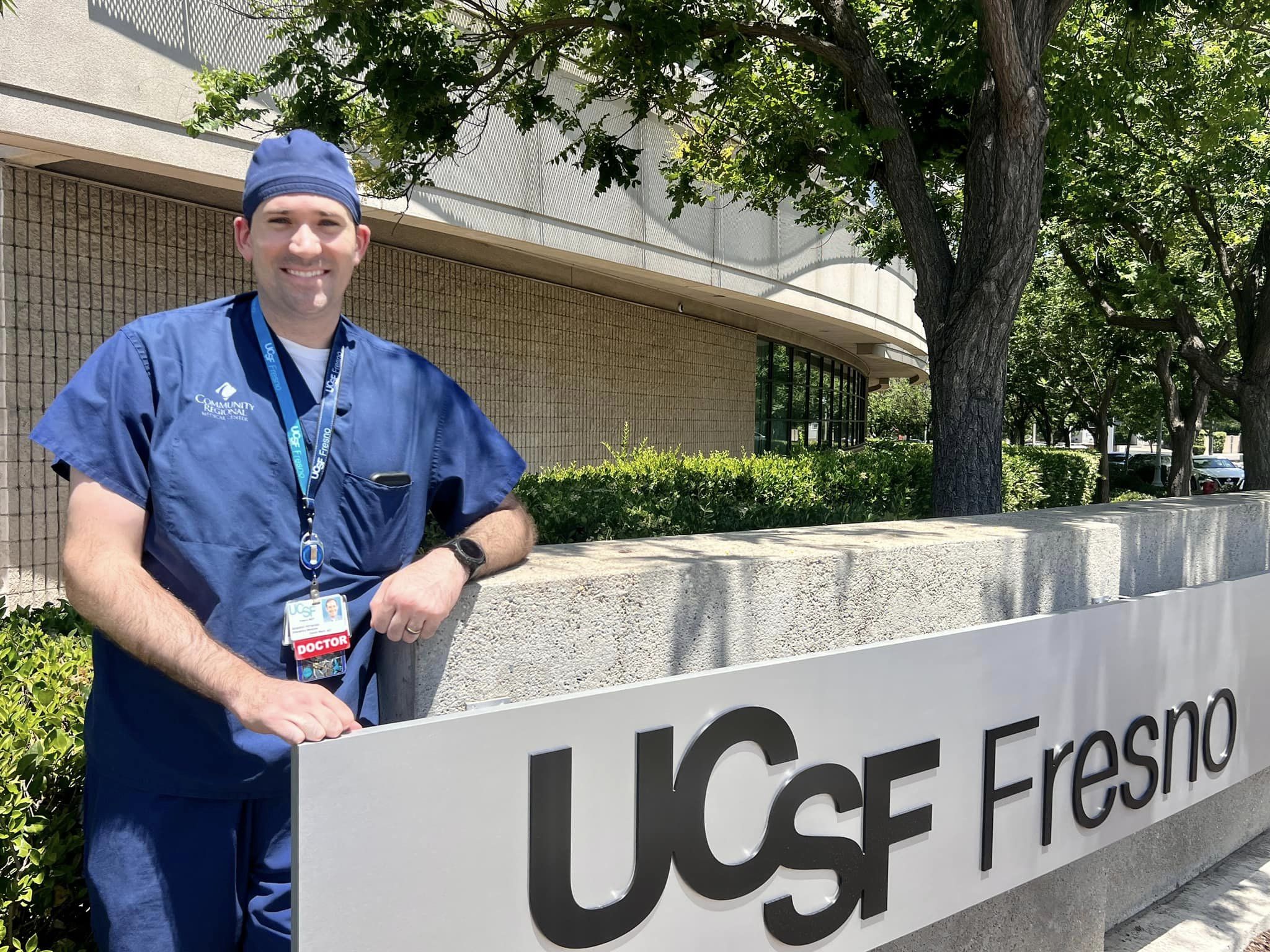 Dr. Ward was motivated to pursue a career in medicine as a child when he watched his mother receive care for a debilitating autoimmune condition.
"The experience of going with my mom to her many appointments at UCSF to meet with her multi-specialty team and seeing the recovery that she was able to make was profound," he said. "I wanted to help others in a similar way."
He was drawn to Emergency Medicine from experiences enrolling patients in volunteer studies as an Academic Research Associate (ARA). The ARA program, run by the UCSF Fresno Department of Emergency, gives pre-medical students opportunities to observe clinical medicine and participate in biomedical research. He also worked at Clovis Community Medical Center as a scribe, documenting patient information and history. These positions allowed him to gain an appreciation for the fast-paced, dynamic, and team-based environment of emergency medicine.
"We don't know what the day, night, weekend, holiday shift is going to throw at us," said Dr. Ward. "But I find meaning in knowing that because of my training in Emergency Medicine at UCSF Fresno, I have the knowledge and skills to take care of whatever comes through the door and ensure our patients get the best treatment."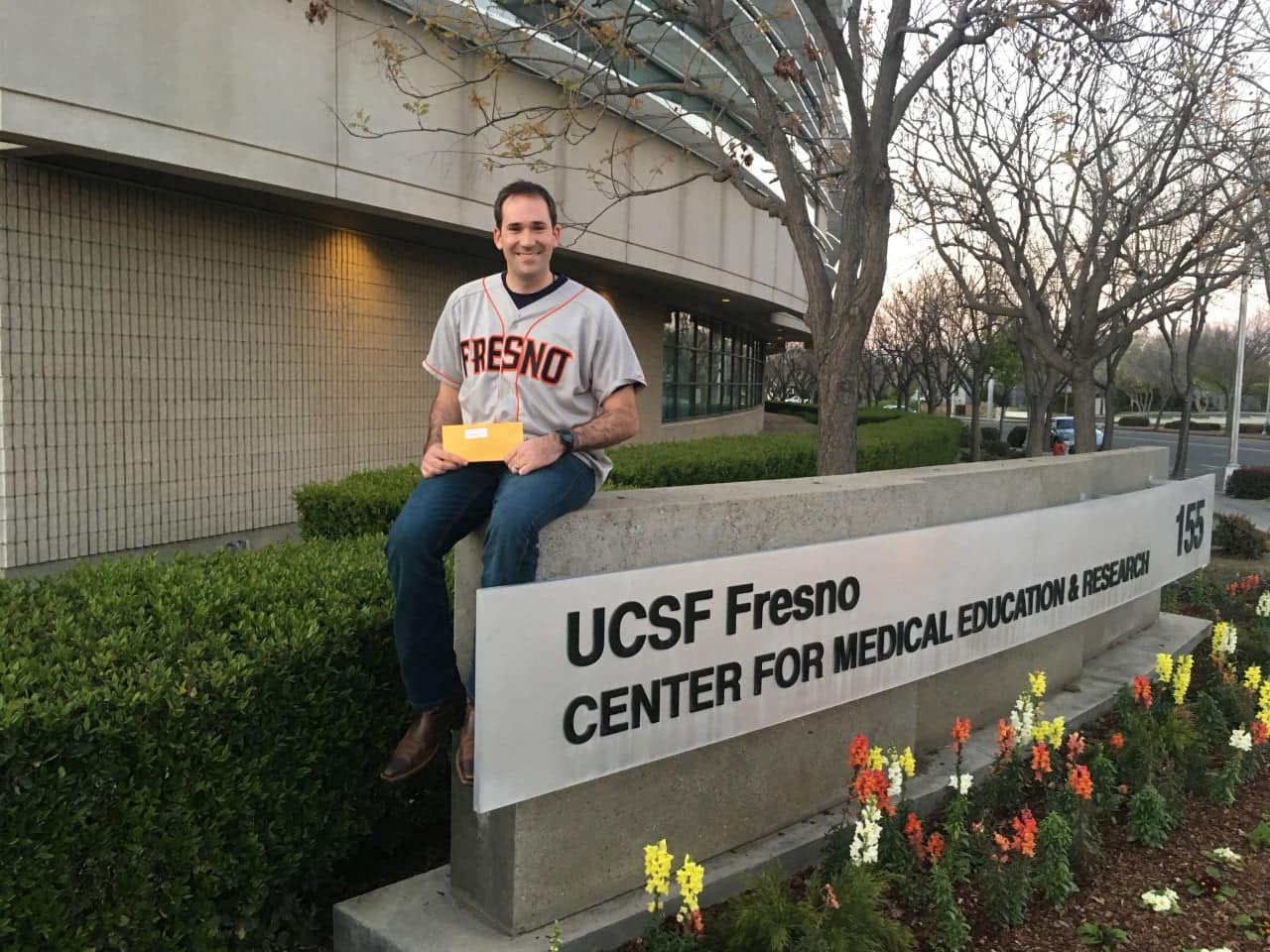 Dr. Ward met his wife Devon at a Fresno State Pre-Med Club meeting. They began dating a short time later and maintained a long-distance relationship while she entered medical school in the Midwest two years ahead of him. After medical school, both returned home to the Fresno area to pursue residency. They married in 2018 and welcomed their son Christian in 2021. Raising a family with his wife while completing a very demanding chapter of their lives during residency training is a point of pride.
During what little spare time he has, he enjoys many recreational and competitive sports including basketball, baseball, golf, trail running, mountain biking and camping. In the future, he looks forward to pursuing hobbies such as scuba diving, amateur radio, and backcountry aviation.
Dr. Ward was born and raised in Fresno. He attended Bullard High School and graduated Magna Cum Laude with a bachelor's in chemistry from Fresno State. He also received associate's degrees in Engineering, Mathematics and Health Information Technology from Fresno City College. He earned a medical degree from the UCSF School of Medicine.
Dr. Ward appreciates the support he has received from his residency class peers and that of the faculty and staff at UCSF Fresno. He recognizes the physicians at CRMC and Clovis Community Medical Center who mentored him along the way and is incredibly grateful to the Smittcamp
Family for establishing the Honors College at Fresno State and for providing financial assistance to help outstanding students pursue their education. Dr. Ward has supported and plans on continuing to support future scholars as well.
He looks forward to practicing operational emergency medicine and continuing medical training in flight medicine and tactical emergency medicine. Ultimately, he would like to return to UCSF Fresno to continue giving back to the community that he calls home and help train the next generation of emergency medicine physicians for this region.
Congratulations, Dr. Ward, and to the entire UCSF Fresno Class of 2023.